Part 2 in an amazing journey that covers Livingstone the Lower Zambezi national park ending it all off with a South Luangwa safari.
Tongabezi Lodge is a privately owned and run lodge located in the most amazing and tranquil setting further upstream on the Zambian side of the Victoria Falls.
Accommodation consists of a selection of houses and cottages, each beautifully furnished using local materials. An added touch is that guests can choose to dine beside the river or on their private terrace.
You can choose to just relax or make the most of the many activities that will keep you busy for several days. Inclusive activities are sunrise and sunset boating, a guided walking tour of the Zambian side of the Falls, fishing, a game drive in Mosi-oa-Tunya Game Park, guided museum tours, a visit to the colourful markets and Simonga village. For the romantics out there, a must is the private candlelit dinner which you can enjoy whilst floating under the stars on the Zambezi.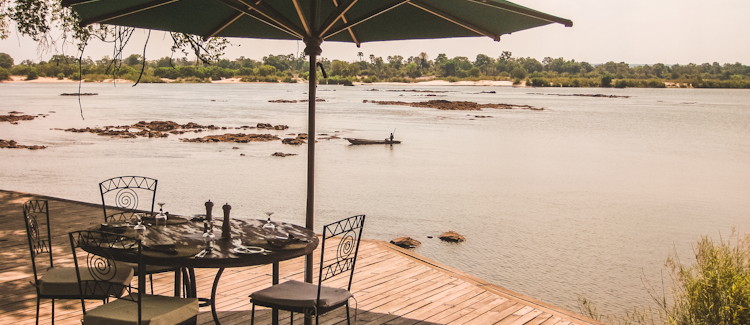 Watch out for those hippos! We were warned not to venture outside alone after dark because of the resident hippos, which had slipped my mind until I heard the scuffling in the bushes right next to my chalet. It seems I was located at their favourite sundowner hole! Tregger, my valet, eventually came to my rescue so I could enjoy my delicious dinner.
One of the highlights of my stay at Tongabezi Lodge was the Livingstone Island Excursion, where you are given the opportunity to swim on the edge of the Victoria Falls (Zambian side). This is definitely "bucket-list" material and something everyone should try and do at least once in their lifetime.
After signing what seemed like our lives' away - there is an indemnity form you are required to sign, but at the end of the day if you listen to your expert guides you will be fine - we were taken on a short boat ride from the Royal Livingstone Hotel to the banks just near Devil's Pool. You are guided across the river, which involved a short burst of a swim to the rocks, where you then have to jump into this tiny pool - Devil's Pool - which sends all the adrenaline soaring through your body.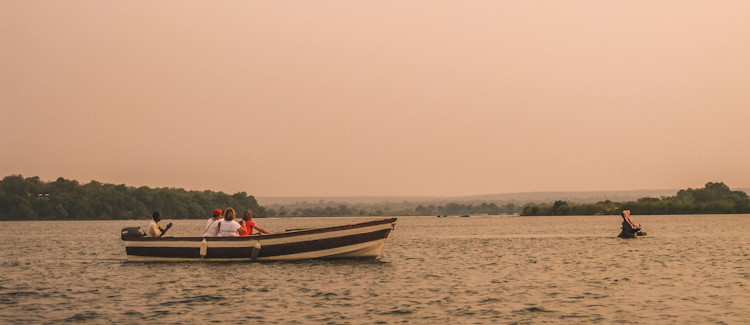 You are only allowed about 15 minutes in the pool before you return to the shore and sit down for a delicious eggs benedict brunch!
Sindabezi Island Lodge is Tongabezi's sister camp - is located on a private island about a 20-minute boat ride from Tongabezi. Accommodation consists of five open-sided thatched cottages offering uninterrupted views across the flood plains of the Zambezi, and into the nearby National Park.
In the late afternoon after our arrival, we enjoyed a very relaxing sundowner boat cruise before returning to our alfresco dining experience under the stars!
Sindabezi is the ideal getaway for small groups or families travelling together, but also very popular with Honeymooners and couples alike. Sindabezi offers such a relaxing setting, making it the perfect destination for those looking for a quiet getaway. Very popular - and highly suggested - is combining Sindabezi with a stay at Tongabezi Lodge.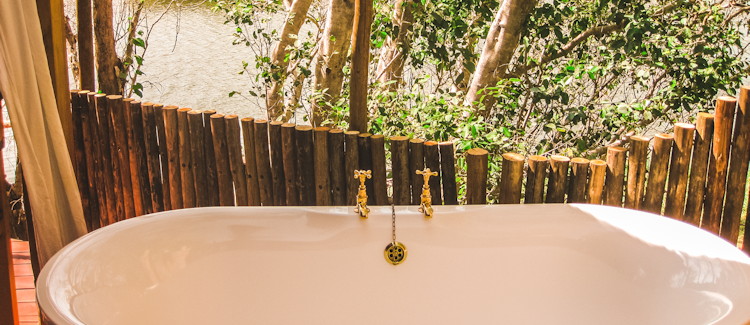 Before we left Victoria Falls and made our way into the Lower Zambezi, we were taken on a visit to the Tongabezi Trust School, which was set up by Vanessa Parker (the wife of Ben Parker, who owns Tongabezi) previously a volunteer teacher in Livingstone.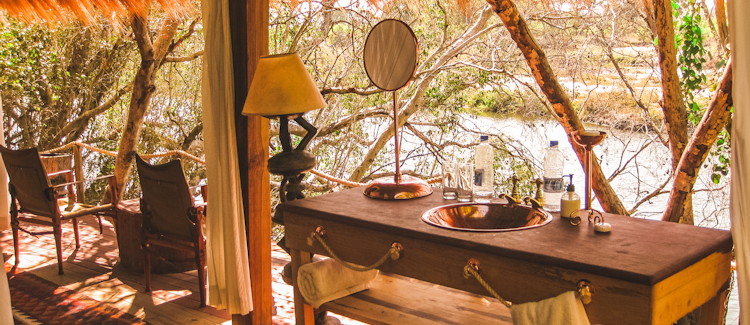 The school opened on the 1st May 1996 and provides education to the Tongabezi staff children, as well as children from the local community, in an area where educational funding and materials are scarce. The school has also recently attained charity status and is completely funded by donations, is currently supporting over 160 students. I highly recommend popping into the school for a visit, which Tongabezi Lodge will gladly help arrange.
The Tongabezi Experience, a stay at one of Africa's most loved safari experiences.
Victoria Falls (Zimbabwe and Zambia) Lodges Map
Popular Zambia Lodges
A Lower Zambezi lodge refurbished as a 5 star luxury lodge, overlooking the vast Zambezi river with it's wildlife and scenic vistas. Royal Zambezi River Lodge is a striking combination of contemporary style and comfort in a completely unspoiled bush environment.

Toka Leya Camp consisting of 12 spacious en-suite safari-style tents, is hidden on the banks of the Zambezi River in the western sector of the Mosi-oa-Tunya National Park, about 12km upstream from the Falls, offering spectacular views.

Potato Bush Camp located on the banks of the Zambezi River in a very remote corner of the Lower Zambezi National Park offers guests a small and exclusive safari experience like few others. Only four tented suites all offer stunning panoramic views overlooking the Zambezi River and Zambezi escarpment.

On the banks of the Luangwa River, Nsefu Camp marks the spot where tourism first arrived in Zambia. Located within a pristine area of the South Luangwa National Park that is rich in wildlife and far from the intrusive view of outsiders. Game viewing here is effectively private.

The Royal Livingstone Hotel, stretching along the banks of the Zambezi River, consists of a series of 17 colonial-style buildings with deep verandas, set amidst indigenous trees and plants is only a few steps from the mighty Zambezi.

Zambezi Grande located just outside the Lower Zambezi National Park a few minutes drive away is a privately owned and run riverfront establishment that is highly sought-after by those looking to experience all that Lower Zambezi Valley offers.