A Beginner's Guide To Mokoro Safaris In The Okavango Delta Of Botswana
"Mokoro"; A traditional canoe made from a hollowed-out tree trunk, the iconic symbol of a Botswana safari.
A Mokoro safari in the Okavango Delta of Northern Botswana is the perfect way to experience the beauty and tranquillity of this fantastic wildlife region of Africa.
A traditional dugout canoe in which passengers can enjoy a peaceful ride through the waterways while taking in the sights and sounds as the crystal clear waters of the Okavango River pass underneath.
If you are looking for an exciting yet relaxing adventure, a mokoro excursion in the Okavango Delta is worth considering!
This activity should be included on most if not all Botswana safari itineraries unless, of course, that itinerary goes nowhere near the Delta.
This traditional canoe is environmentally friendly and tranquil, making it the perfect way to explore this special place. Whether you are hoping to spot wildlife, birdlife, frogs, or snakes or simply want to sit back and relax in peaceful surroundings, this is an excursion that will undoubtedly create lasting memories.
As a side note, most of the safari lodges and camps in and around the Okavango waterways offer up either boat safaris or traditional mokoro excursions as part of their safari activity list. These two water-based activities go perfectly with land-based game viewing safaris.
How Are Mekoros Made?
A traditional canoe is made by hollowing out large tree trunks. The trunk is then cut into manageable sections, which are transported to the delta by boat or road.
The sections are then trimmed and carved until they are the correct shape and size for a canoe. Finally, the canoe is smoothed and polished, and then it is ready for use in this watery world.
Mekoro (plural) are an important part of the traditional way of life for the people of the Okavango. They are used as a form of transport, fishing, and even as a form of entertainment.
What You Need To Know Before Going On A Mokoro Safari
You should know a few things before embarking on your first safari in a mokoro, in other words, a few tips;
Fitness levels bare no impact as one is just sitting in the traditional mokoro; the poler (ngashi) will be doing all the hard work.
Weight limits are applicable but in saying that, it is very rare that one is turned away.
Be sure to pack sun protection. A wide brim hat and sun cream is a must as one will burn will under the African sun, especially considering these trips are normally +- 3 hours in duration.
Be sure to pack insect repellent as mosquitoes and malaria are present in the Okavango. We need not say more about the importance of protection again malaria.
Although the chances of seeing dangerous animals close by are slim, it is always best to be prepared. Always listen to your guide and follow their instructions at all times.
Water, one needs a water bottle or two.
Keep these tips in mind, and you will have a memorable and amazing experience in one of Africa's top safari destinations.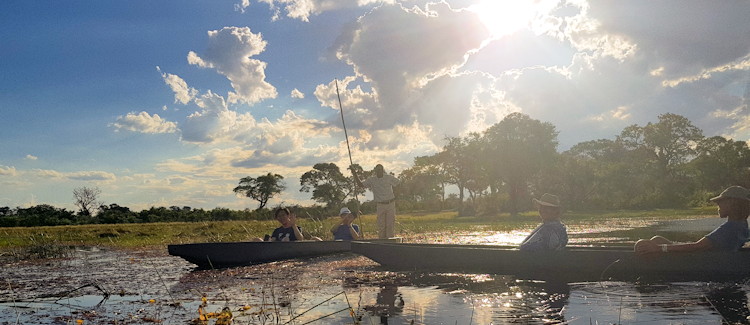 The Different Types Of Animals You Can See On A Mokoro Safari
A mokoro safari is a great way to view the sights and sounds of the Okavango Delta and Moremi Game Reserve. It is a way to experience the crystal clear waterways, palm fringed islands and the vegetation that is within touch, and as an added bonus, one might just bump into some other wildlife along the way.
This is not necessarily the best way to view wildlife but it is the best way to view the Okavango Delta. Think of a Mokoro ride as rounding off an Okavango Delta experience; you have seen the wildlife on game drives and walks, now is the time to relax, sit back, glide across the waters, and simply take it all in.
Elephants and hippos are all common sightings, along with a variety of birds, frogs and occasionally a snake or two. One has to be exceptionally lucky to spot lions or leopards, but you never know.
With a camera in hand, one will get some fantastic photographs all from a very different angle and perspective brushing past reeds from water level (a waterproof camera bag would be a very good idea, there is always water at the bottom of a mokoro).
This is a great way to see some of the diversity that Okavango Delta and Moremi Game Reserve has to offer.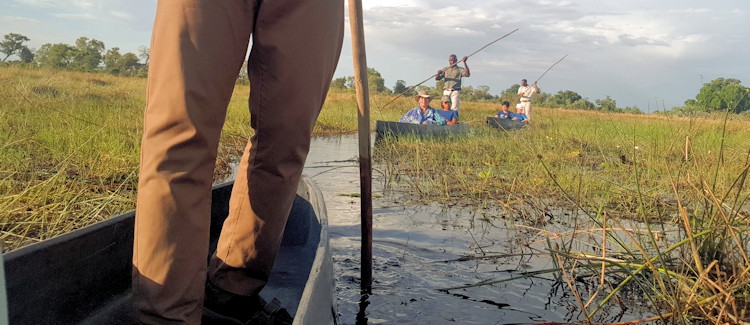 Where Do Mokoro Excursions, Trips And Safaris (Or Boat safaris) Start From?
There are several options when looking at mokoro safaris in the Okavango Delta.
If you are looking for a mokoro trip to be part and parcel of one's safari experience, we would highly recommend a stay at a safari lodge or camp that offers both water and land-based safari activities year-round to be included in one's safari itinerary.
We offer numerous safari lodges and camps throughout the delta that offer a mokoro experience as part of their activity list.
If budget and time are against you, then simply look at a half-day or full-day tour that departs from the town of Maun. The day tour option is perfect if you have a few hours free before your safari starts or ends.
And lastly, there are a few dedicated mokoro safaris whereby one spends 3 to 5 nights out in the wilds as one moves from island to island. These safari options are in general, basic wild camping options with no frills or luxuries whatsoever.
Is A Mokoro Okavango Delta Trip Safe?
As with any outdoor activity in Africa or Botswana, there is always some element of risk involved.
Fortunately, the chances of experiencing danger while on a mokoro ride are small. With a little common sense and caution, you can have a safe and enjoyable experience. Always listen to the guides and polers; they know the area like the back of their hands and do this on a daily basis.
Make no mistake; accidents do occur, but they are few and far between. Wildlife is unpredictable at the best of times.
And lastly, a personal experience from a few years back :)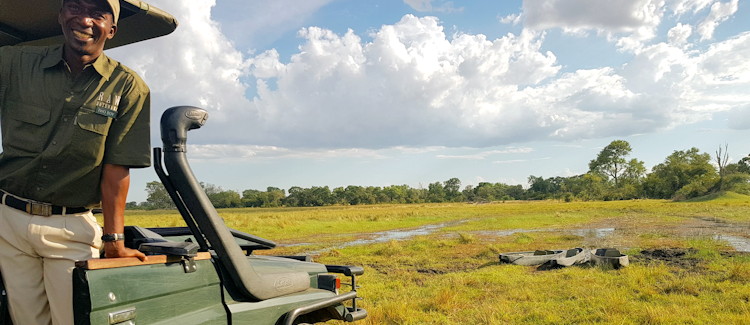 Our Personal Okavango Delta Mokoro Trip went like this;
For me (Ryan), it is the ultimate in the sense of relaxation while on safari. Perhaps a massage at the in-house spa of a game lodge is high on the list, but a mokoro will get you up close and personal to fauna and flora of all shapes and sizes while on safari. Not just with wildlife and game you might encounter, but also with the water and the flora surrounding these waterways.
The land glides past as your poler sweeps you through the narrow channels and into bodies of water that seem to hide the mysteries of the African bush... what lurks beneath... not sure I want to know...
More than likely, your poler grew up on these waterways; he knows the land and the secrets that it hides. He tells you the stories of his father and grandfather and how he came to be here.
You learn about the smaller details - the frogs you'll never encounter anywhere else, what you can (and can't) use the water lilies for and how the afternoon thunderstorms play their role in the magic of the Okavango Delta.
It's quiet; you can hear yourself breathe, the reeds rustle, and the hippo's come up for air.
The wildlife watches you from the banks as you float past; you almost feel at one with your surroundings. Even once your time on the water is over, you still feel a sense of calm as you head back to the vehicle or the lodge.
An experience in Botswana allows you to simply melt into the surrounding environment and become almost invisible to the wildlife surrounding you.
Truly spectacular...