When To Visit Zimbabwe
High Season: July to October (prices for lodges and safaris are at their highest)
Low Season: December to April (prices for lodges and safaris are at their lowest)
Mid Season: November, May and June (prices for lodges and safaris are positioned in between high and low seasons)
As a general rule of thumb, travel in Zimbabwe can happen year-round albeit with a few seasonal disadvantages in certain destinations.
Summer In Zimbabwe
The summers months (including spring), September to February, expect hot to scorching daytime temperatures with nighttime temperatures a lot more reasonable but still warm. October is the hottest month and can be extremely uncomfortable day and night. Rainfall starts in November and ends in March, as a general rule of thumb, rainfall is by way of thunderstorms.
Winter In Zimbabwe
Winter months (including Autumn), March to August, daytime temperatures are much more agreeable for most people; nighttime temperatures can get cold with some areas in Zimbabwe recording close to zero ºC (Hwange as an example). Very little to no rain falls over the winter months.
Best Season For Wildlife
100%, winter is best for wildlife sightings and photography in all of Zimbabwe's wildlife reserves and national parks. Daytime temperatures are mild (for Africa) with little to no rainfall, resulting in wildlife having to use and stay close to watering holes, this is the perfect recipe for spotting wildlife.
Best Season For Birdlife
Summer months are best for birding and bird photography, a whole host of migrant species are found fluttering around in the heat of the day. Birding in winter is not bad at all; one misses out on spotting migrant species.
Best Time to Visit Victoria Falls
Now to throw confusion into the planning process, you want to experience Victoria Falls at full flow and visit in winter for the best wildlife, now we have a problem. Victoria Falls at full flow is between March-May, it is these months that offer the most spectacular views and experiences of the Fall at full flow.
Zimbabwe Weather Charts
Victoria Falls Temperature Chart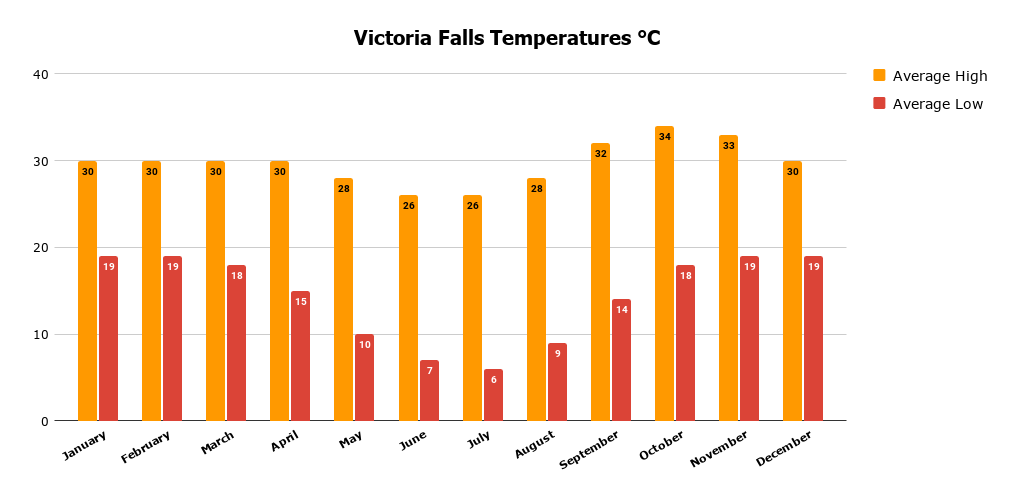 Victoria Falls Average Rainfall Chart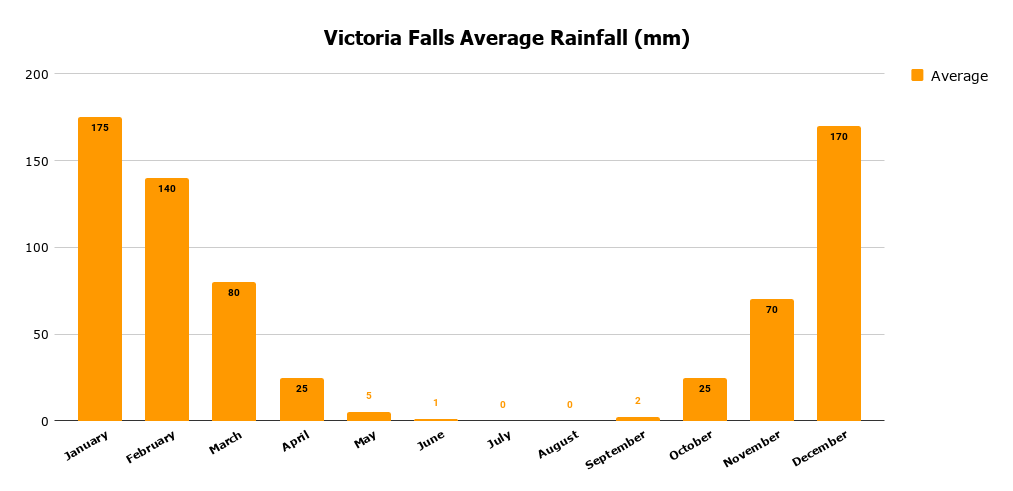 Harare Temperature Chart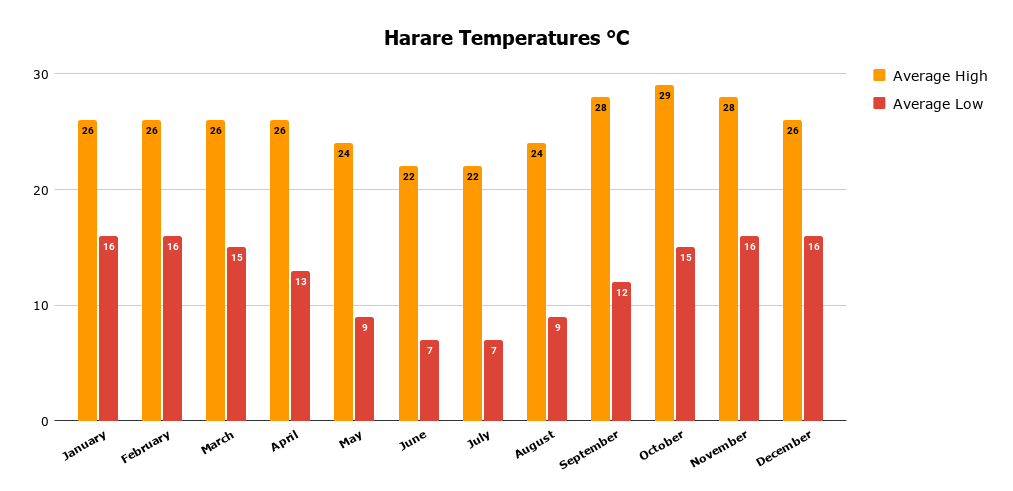 Harare Falls Average Rainfall Chart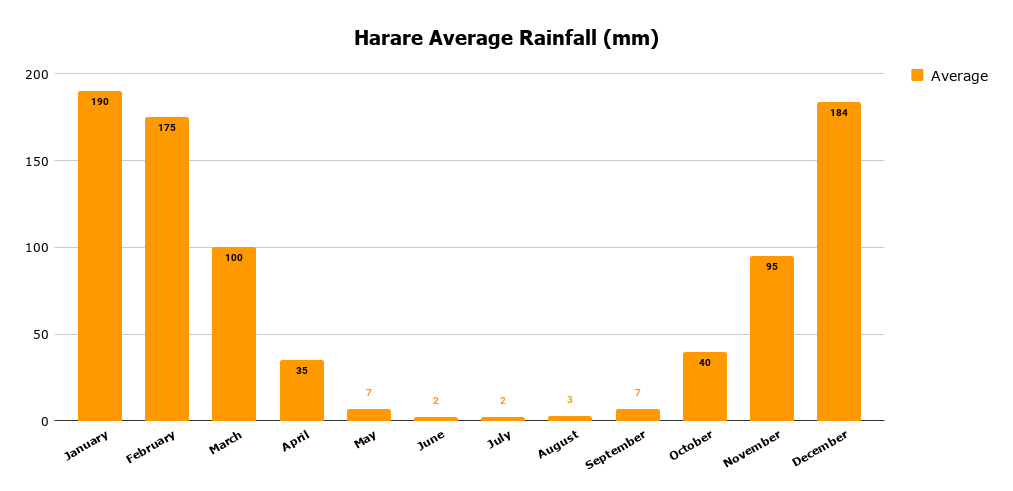 Zimbabwe Travel Topics
The Perfect Victoria Falls Honeymoon Safari

Victoria Falls is the ideal destination for a honeymoon or romantic safari. Victoria Falls is an awe-inspiring sight, and it's easy to see why it has become one of the most popular destinations for couples on honeymoon or romantic safari.

Canoeing On The Upper Zambezi

Your correspondent has been travelling and going on safari in Africa since the early 1980s. I have lost count of the many, majestic sunsets, of the unique wildlife moments accidentally captured by a camera and of the multitude of happy days with friends in remote places.

Best Victoria Falls Adventure Activities

The Victoria Falls is not only celebrated as one of the worlds most beautiful sights but it also is known as the adventure capital of Africa. With Victoria Falls being on most safari itineraries it is good to know what to do and see when in town, whether you are staying on the Zambian or on the Zimbabwean side of the Falls.

Best Victoria Falls Relaxed Activities

The Victoria  Falls area has gained a reputation over the past two decades as one of the adventure centres of the world.  From bungee jumping to white water rafting, there will be some activity for the adrenalin junkie.  However, this is not what the Vic Falls was traditionally about.