When To Visit Uganda
What are the best months for travelling and safaris in Uganda?
With the equator running through Uganda one is guaranteed that temperature variations are kept to the minimum, no matter the season (as you can see below on the temperature charts).
The best time to visit if you are basing your decision on temperatures alone would be all year round, unfortunately, it is the rainfall and rainy season that typically throws that proverbial spanner in the works. Most who visit Uganda will not be deterred by a little rain. In fact, it is part of this country's charm, from those lush forested mountains and valleys to the majestic waterfalls and fast-running rivers.
Rain can and most likely will occur throughout the year as one can see on the below rainfall graphs. One simply wears a raincoat when out viewing the gorillas or wandering away from one's safari vehicle or lodge, it really is that simple. The joys of a safari on the equator.
April and May are the rainy months in travel in Uganda, safaris over this period do tend to get a little tricky with longer travelling times, bad roads and if you are gorilla trekking prepare to get very very wet. Waterproof bags for camera gear is a must.
As a quick guide on high and low seasons for safaris and holidays in Uganda (high season = high prices / low season = lower prices).
High season Months;
December to February
June to September
Low season Months;
March to May
October to November
Bear in mind that the best time to safari Uganda does not always line up with the best time to safari in Kenya or Tanzania. A little bit of compromise here and there and we will be able to get the best out of both all regions (should you, of course, be visiting Uganda as part of an addon to a Safari in Kenya/ Tanzania).
Best months for gorilla trekking;
There are two dry seasons that are the best for gorilla trekking, making it easier to hike the forests, these periods are; June to September and January and February.
Best months for wildlife viewing;
The end of the dry months is best, wildlife over this period congregate at waterholes making it easier to spot and photograph; September and early October as well as February and March.
Best months for birdlife viewing;
Birding in Uganda really has no season as it is excellent year-round, although keep in mind that migrant species arrive between November and April.
Uganda Weather Charts
Entebbe Temperature Chart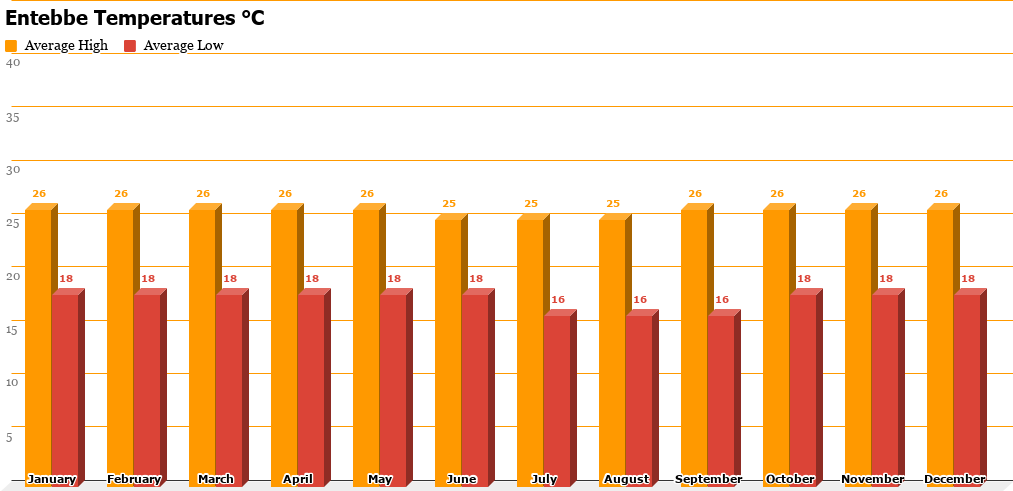 Entebbe Average Rainfall (mm)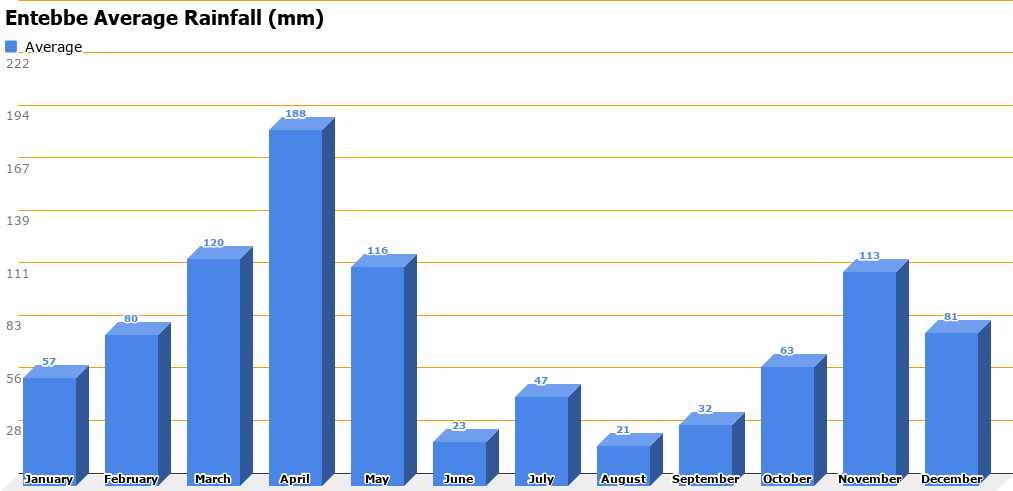 Bwindi Impenetrable Forest Temperature Chart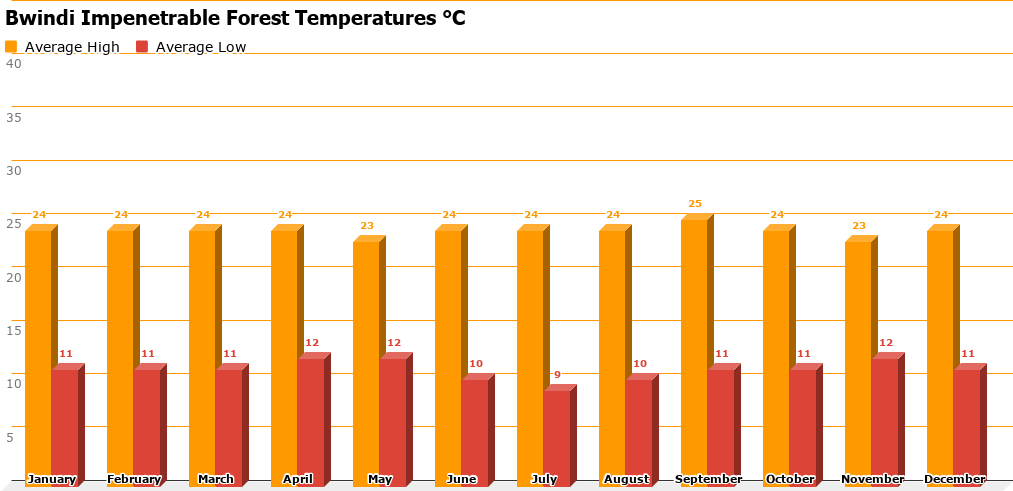 Bwindi Impenetrable Forest Average Rainfall (mm)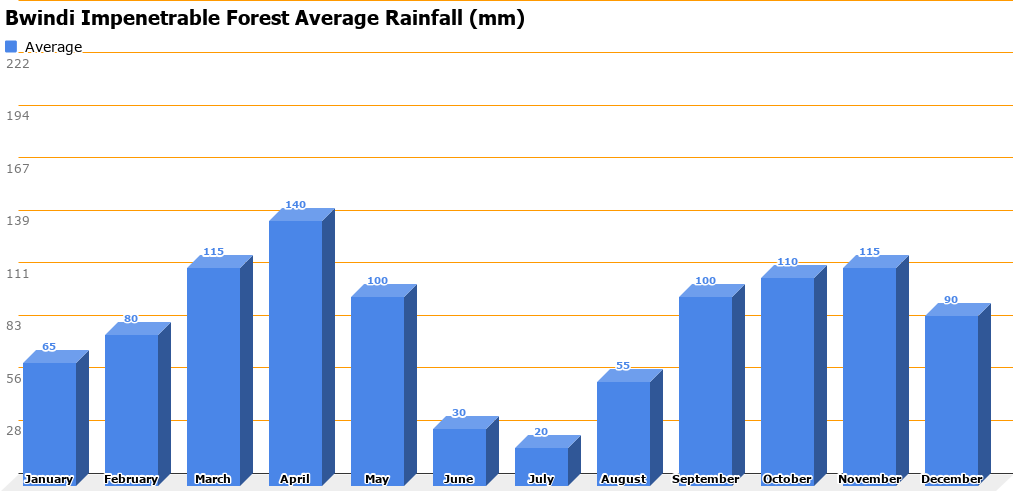 Murchison Falls National Park Temperature Chart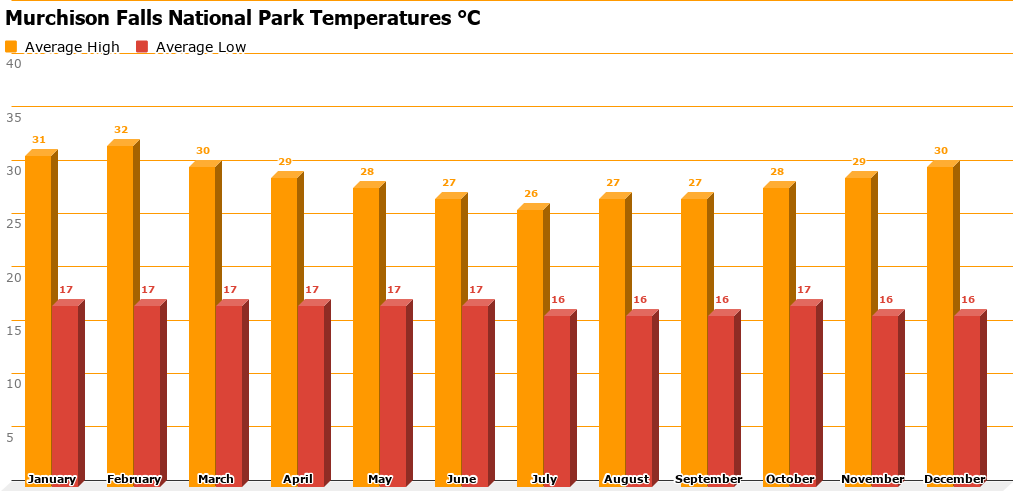 Murchison Falls National Park Average Rainfall (mm)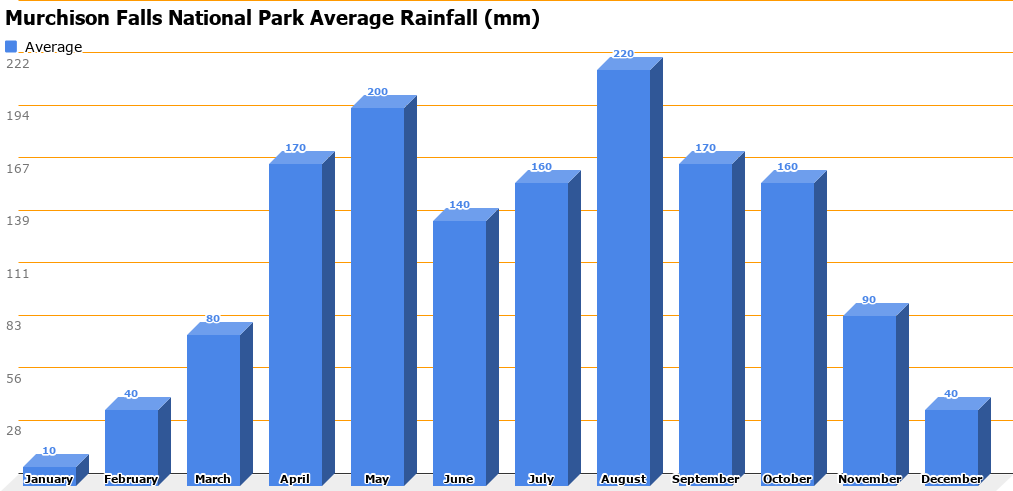 Uganda Travel Topics
A Special Gorilla Family

This year marks the twentieth anniversary of a very special family, the Mubare family group in the Bwindi Impenetrable Forest in the south western corner of Uganda. They are, of course, gorillas. Why are they so special?

Top Restaurants In Kampala

The capital of the pearl of Africa is booming. Like many other African cities, a burgeoning middle class enlarged by a stable Ugandan government and consistent economic growth over the last two decades has created a dynamic city.

Bwindi Safari Experience Uganda

Called "The Pearl of Africa" by Winston Churchill and in more recent memory the scene of great civil war under the mad dictator Idi Amin, it throws up many images. Most people go to Uganda today to see the famed mountain gorillas (Gorilla beringei beringei).

White Water Rafting Uganda

The best Whitewater rafting on the Nile River adventure ever started from the Nile River Explorers backpackers in Jinja. We were given a very thorough safety briefing by our guides, which included multiple compulsory practice flips in the boat.

Uganda the Pearl of Africa

There are certain magical names in Africa, names which conjure up images of mystery, of exotic fauna and flora and even of a certain danger. I had the pleasure of visiting one of these places last year; the Bwindi Impenetrable Forest in the south west corner of Uganda, home to troupes of mountain gorillas.

Popular Uganda Destinations

When I was a younger man, the name of Uganda was evocative of the dangers and thrills of Africa, the superlative wildlife, the psychopathic dictator Idi Amin, the raid on Entebbe and the multiple civil wars.