When To Visit Botswana
When is the best time to travel in Botswana? A question that is easy and difficult to answer all in the same breathe. It all depends on you and your expectations, your interests, your budget and what you want to experience.
The summer months are best for birding with all the migratory birds arriving, the landscapes are greener, and the Botswana safari rates are lower. Remember that it is hot day and night and those wildlife sightings do become a little harder to find although the Savute and the Kalahari regions offer excellent game viewing as they lie in the path of migrating wildlife.
The cool and dry winter months are regarded by many experts as the finest time to safari in Botswana, wildlife sightings are excellent, the Okavango Delta is in full flood, and the risk of malaria is at its lowest. It is also worth mentioning here that this is also the most expensive season regarding safari costs.
If things do become a tad complicated - please contact us, and we will guide you on what is best for you.
Summer in Botswana
The summers months (including spring) are September through to the end of February (although March is still on the warm side) is what is referred to as the "green season". One can expect very high daytime temperatures and only slightly lower nighttime temperatures, October being the hottest month of them all. Summer rainfall, in general, starts in November and ends in March.
Winter in Botswana
Winter months (including Autumn) are March through to the end of August. This is the dry season in Botswana but also peak season in regards to tourism numbers, as the days are invariably sunny and warm. Although this is the dry season it is also the wet season (confused?) let me explain; this is the season when the Okavango Delta water levels are at their highest, so therefore dry but still wet.
Okavango Water Levels
The water from the Angolan Highlands starts to push into the Delta in the late summer and early autumn months with winter offering the highest levels. The Okavango water levels start receding towards the end of the winter months and into spring, with the summer months offering up the lowest levels. Certain areas within the Delta do offer permanent year-round water. The best time to visit the Okavango Delta is winter.
Best Season for Wildlife
As a general rule of thumb, the cooler Winter months offer the best wildlife sightings as wildlife will congregate close to areas of that offer permanent water sources, thus making it easier for your guides to find the wildlife and also cutting down driving times. In some areas of Botswana, this does not apply as there is a constant source of widespread water year-round, the upper Okavango Delta and the Linyanti swamps are amongst these regions. The best season for wildlife in Botswana is winter
Best Season for Birding
Without question - the hot summer months are best for Botswana Birding safaris as this is when the migrant species start arriving to make up that magnificent total of 597 species spotted. This is in no way saying the winter months are bad for birding; it is just simply that the migratory birds are absent. Let it be said that in Botswana there is no such thing as a bad birding season. The best season for birding in Botswana is summer.
Botswana Weather Charts
Maun Temperature Chart;
Maun Average Rainfall Chart;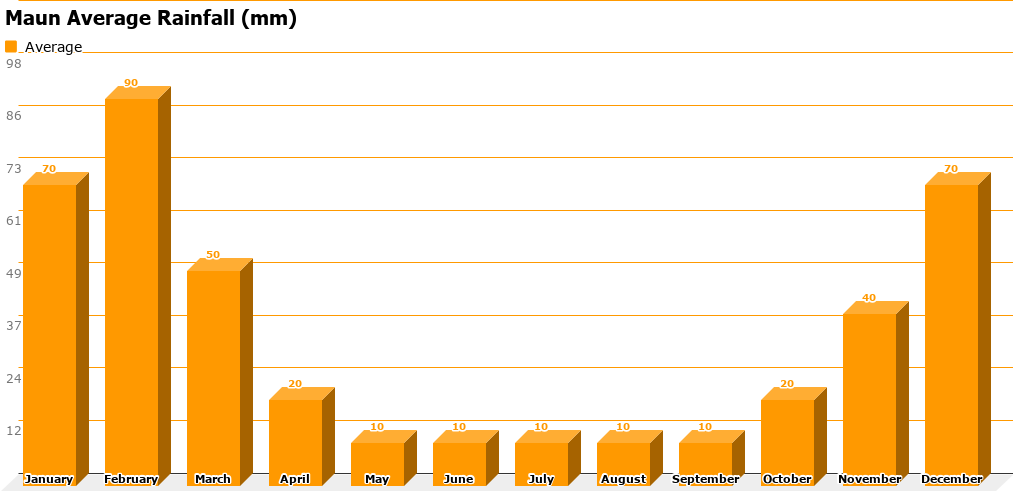 Gaborone Temperature Chart;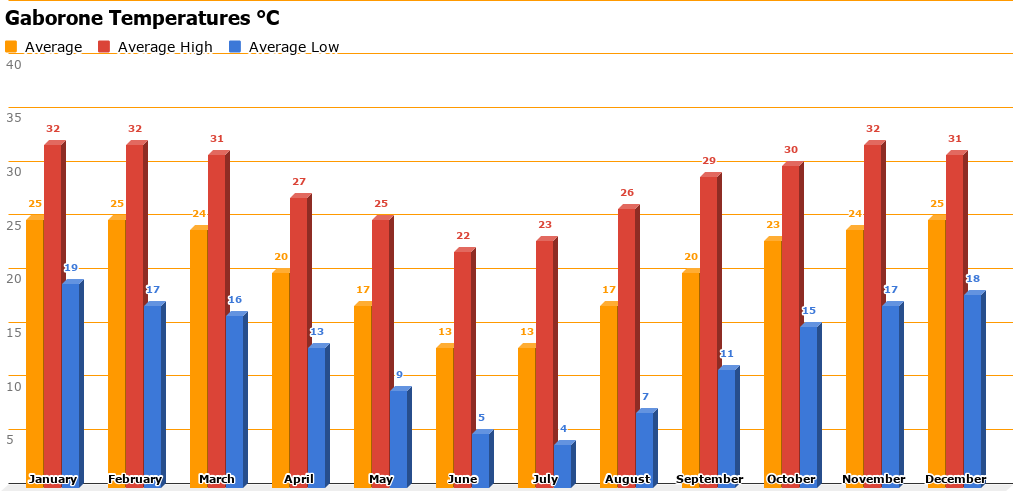 Gaborone Average Rainfall Chart;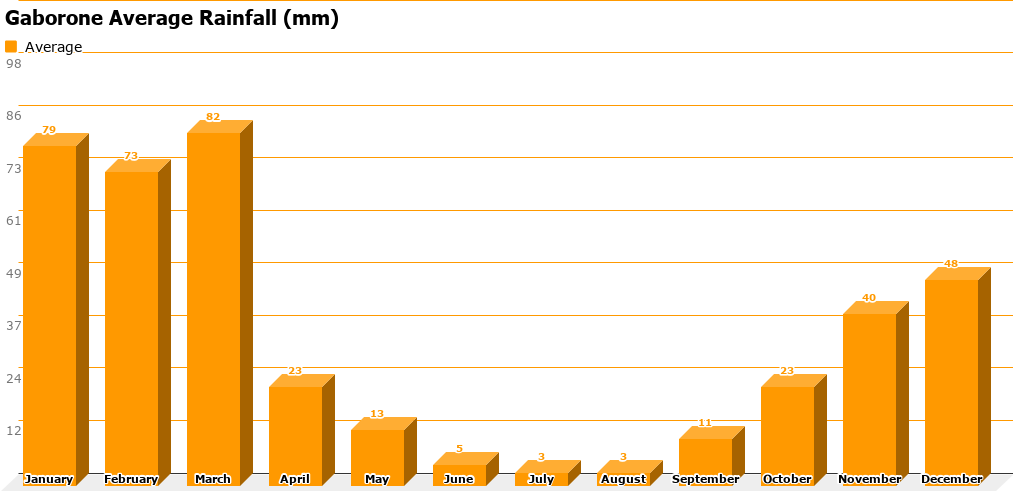 Kasane Temperature Chart;
Best Botswana Lodges By Map
Botswana Travel Topics
Day Tours In Botswana

The top 10 day tours in Botswana. Experience flights, mokoro and boating excursions over and on the Okavango, game drive safaris in the Moremi Game Reserve and Chobe National Park, boat cruises on the Chobe River and even trips to Victoria Falls and to watch the Kalahari Meerkats.

The perfect day tour options for anyone with a few hours or a day free when in Botswana.

10 Places To Visit In Botswana

10 Places To Visit In Botswana, our safari experts have shared their favourite destinations and places to visit in Botswana.

Explore the Okavango Delta, Moremi Game Reserve, and Chobe National Park, to mention a few. Add Botswana to your bucket safari list for a unique African safari experience!

Best Okavango Delta Safari Holidays

Okavango safaris are suitable for all budgets and interests, and we can tailor-make a trip to suit your needs.

So whether you're looking for an action-packed adventure or a relaxing and romantic safari getaway, a safari in the Okavango is the perfect choice for those interested in Botswana as the ultimate travel experience.

The Best Exclusive Use Villas In Botswana

If you're looking for the most exclusive, luxurious safari experience in Botswana, look no further than these top-of-the-line safari villas.

World-class cuisine, unparalleled views and locations, and unmatched guiding and service will make your stay unforgettable.

Plus, you'll have some of the best wildlife experiences on your doorstep!

Botswana Travel Bucket List

Our Botswana Travel Bucket List of destinations and activities that are a little off the cuff when it comes to this amazing country of Botswana. Not just your stock standard safari destinations but something a little different that will keep one interested not matter the time of year.

Light Aircraft Flights in Botswana

The world below from above… It's like a woven tapestry of colours, shapes and tones. For me flying over Botswana and the Okavango Delta in a light aircraft was nothing short of captivating - my head firmly placed against the little windows to try and take it all in.

Mokoro The Okavango Delta

Mokoro Okavango Delta safaris are a popular way to explore the wetlands of Botswana's Okavango Delta.

A mokoro is a traditional dugout canoe, and passengers can enjoy a peaceful ride through the waterways while taking in the sights and sounds of this beautiful area.

If you are looking for a unique way to experience the Okavango Delta, a mokoro safari is worth considering. This traditional form of transport is both eco-friendly and tranquil.

Uyaphi.Com Leads In Botswana

The award was presented by Karibu Safari Botswana in their international sales incentive competition for the year's best individual sales person based on the number of confirmed bookings, pax traveling and the total value of sales.