When To Visit Tanzania
The question; "When is the best time to go to Tanzania", is a tough one to answer as the variables of travelling around Tanzania are complex. In the list below we have the "best months for travel in Tanzania", but please bear in mind that these are peak season and rates are at their highest over those months.
We find that it is best to establish one's interests, budget, expectations and wishes before suggesting Tanzania safari options. Just because one travels out of peak season does not mean that the wildlife and birdlife have vanished, good to excellent sightings can still be had.
Best months for Serengeti Migration; June to October
Best months for Serengeti Wildebeest calving; January and February
Best months for Wildlife; June to October
Best months for birding; Year-round, although summer sees migratory birds moving in
Best months for climbing Mount Kilimanjaro; August to October and January to March
Best months for visiting Tanzania's beaches; August, September and October
As a side note with regards to the Serengeti migration, being in the right place at the right time is not easy to predict ahead of time. Quite often, the only option is to choose a date that best suits and hope for the best during your stay.
We have tried our best to be as accurate as possible with the below graphs, but as always, take weather averages with a pinch of salt these days as weather patterns seem to be all over the place.
Tanzania Weather Charts
Serengeti Average Temperature Chart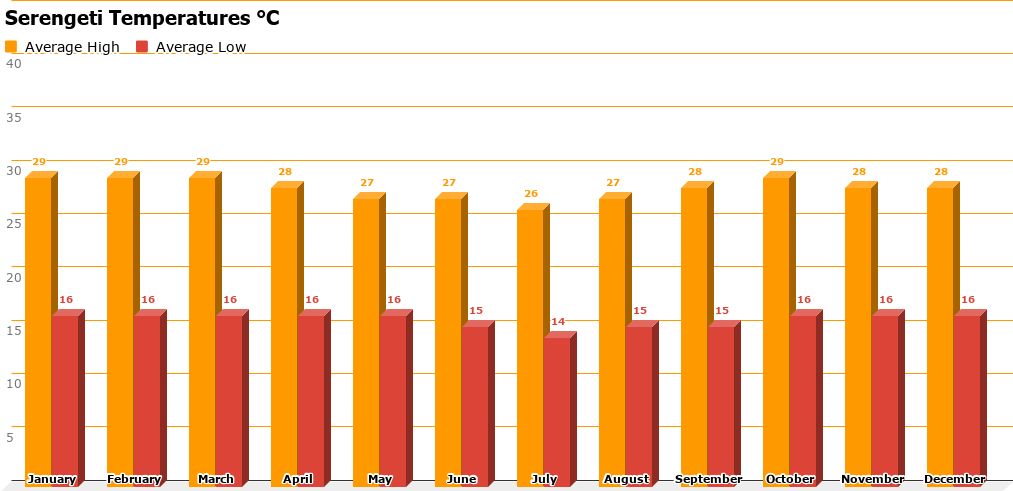 Ngorongoro Average Temperature Chart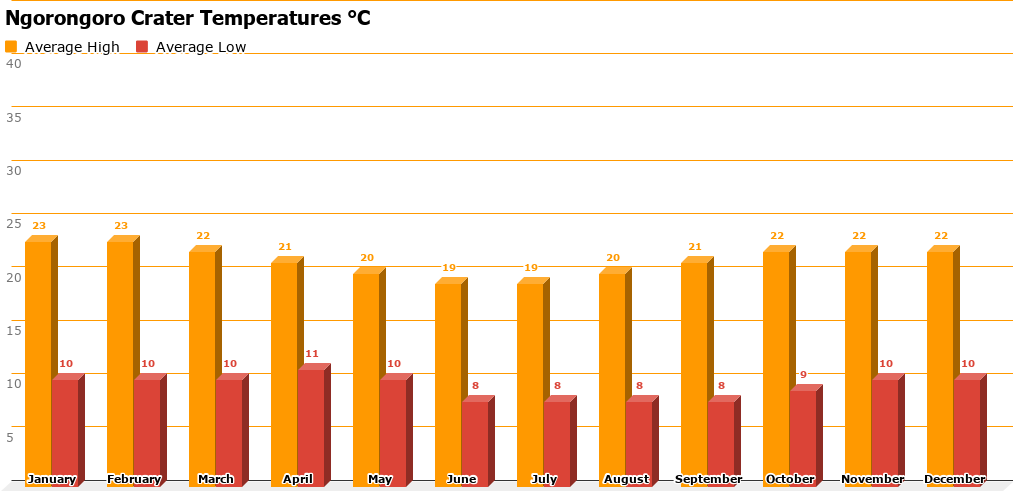 Arusha Average Temperature Chart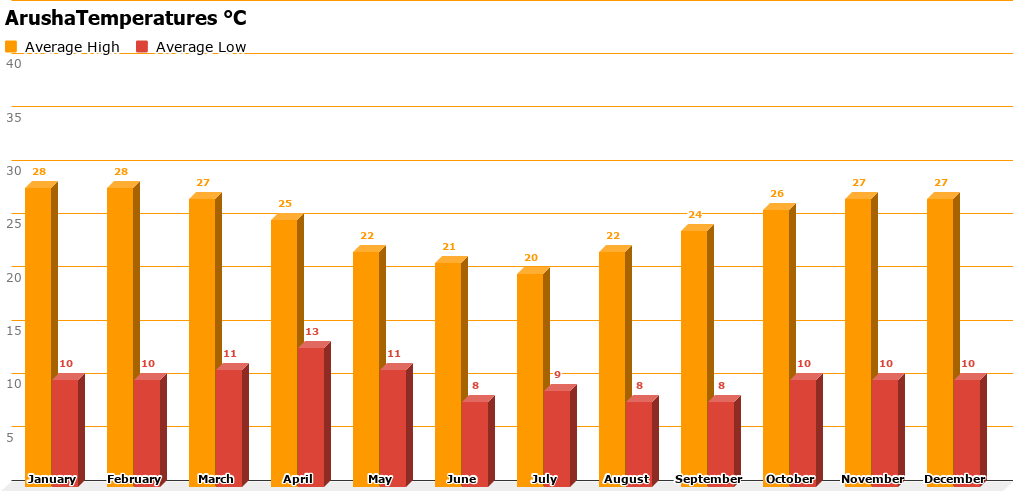 Arusha Average Rainfall (mm)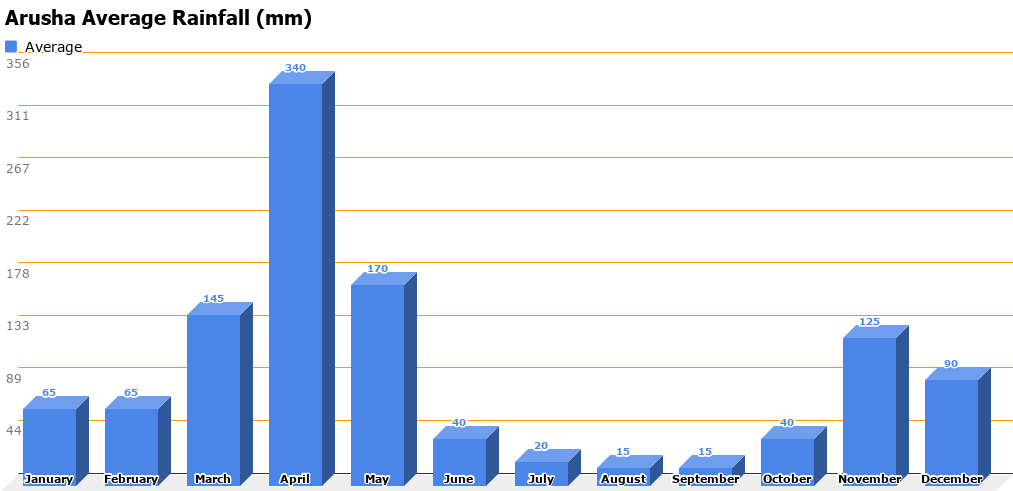 Dar es Salaam Average Temperature Chart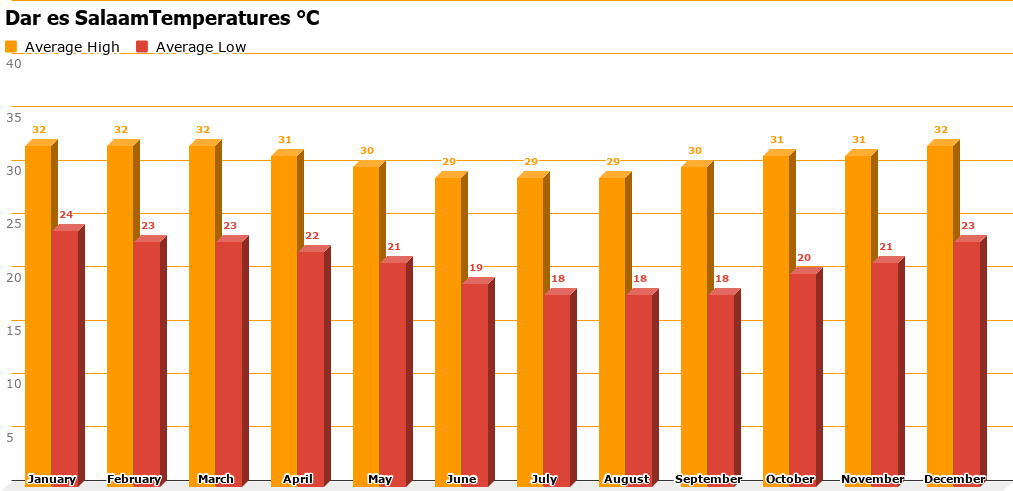 Dar es Salaam Average Rainfall (mm)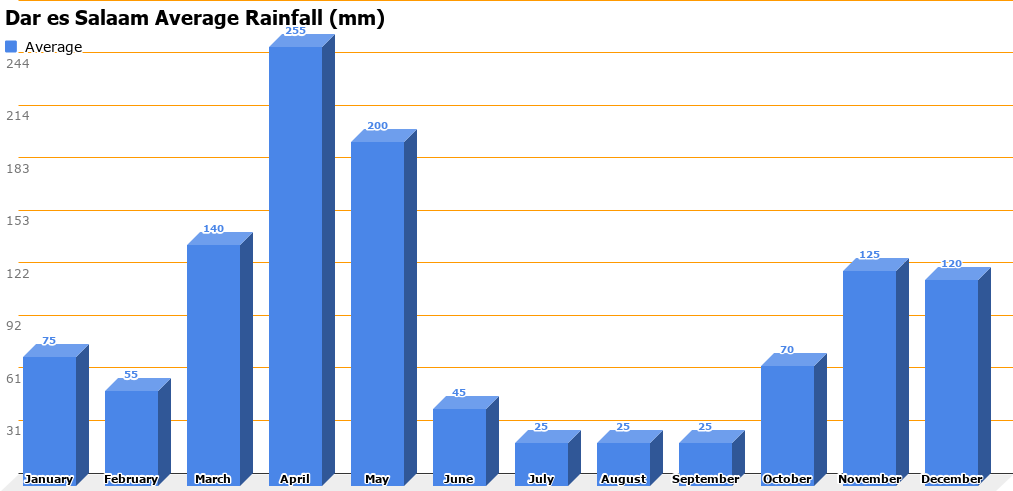 Dar es Salaam Average Sea Temperature Chart
Zanzibar Average Temperature Chart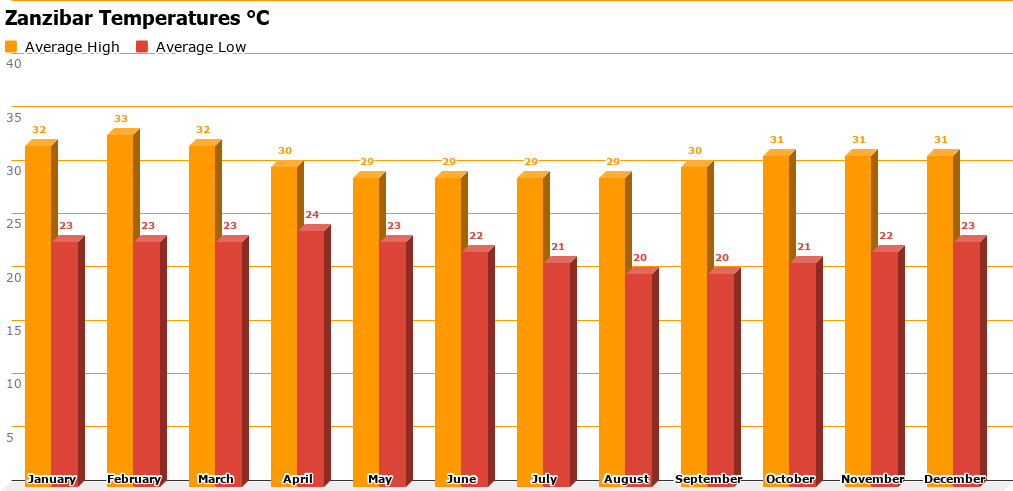 Zanzibar Average Rainfall (mm)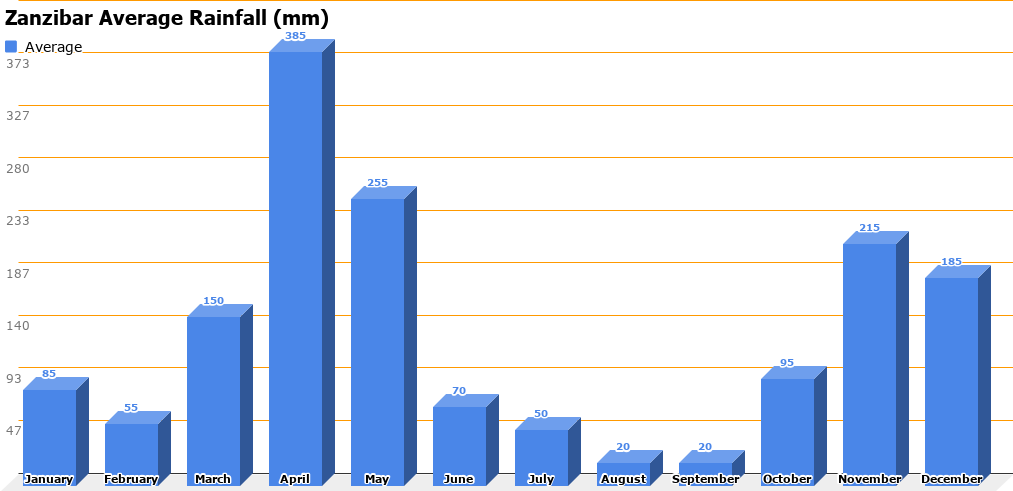 Zanzibar Average Sea Temperature Chart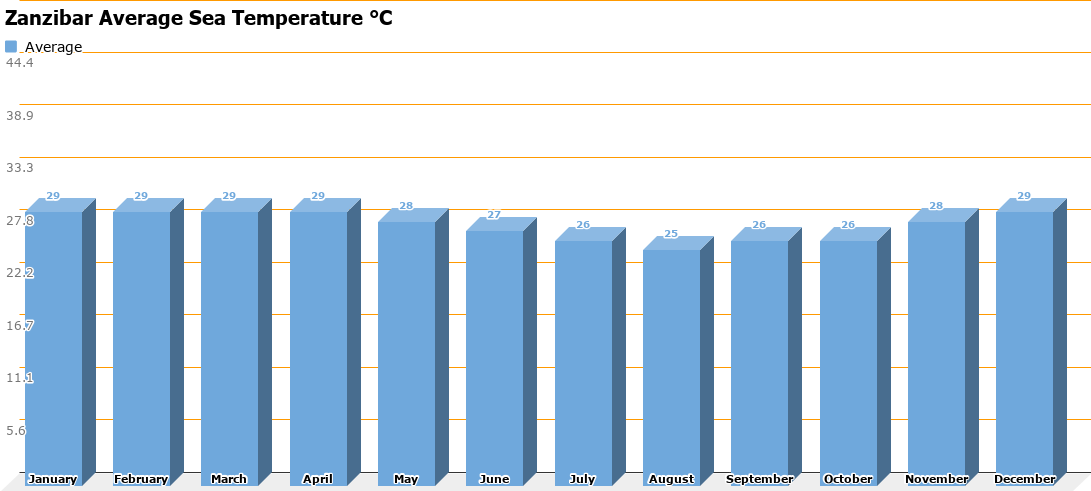 Dodoma Average Temperature Chart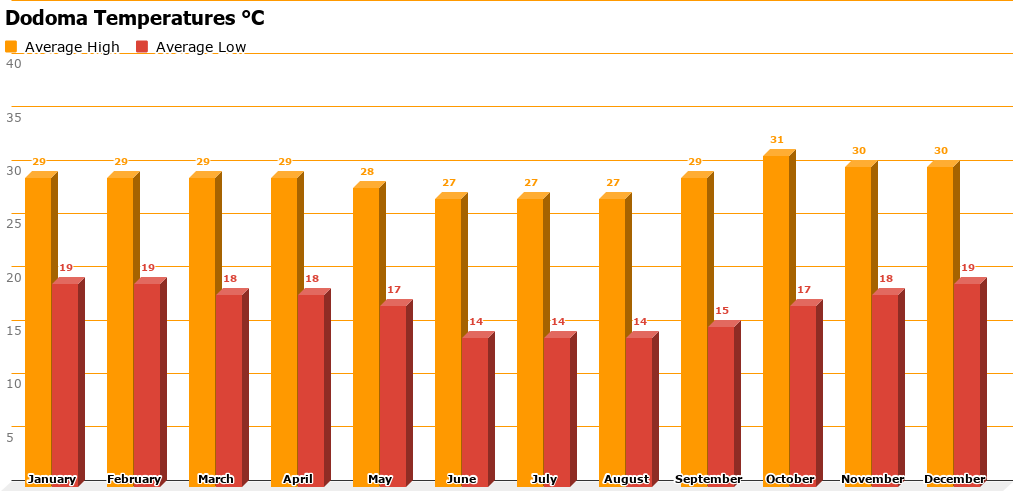 Dodoma Average Rainfall (mm)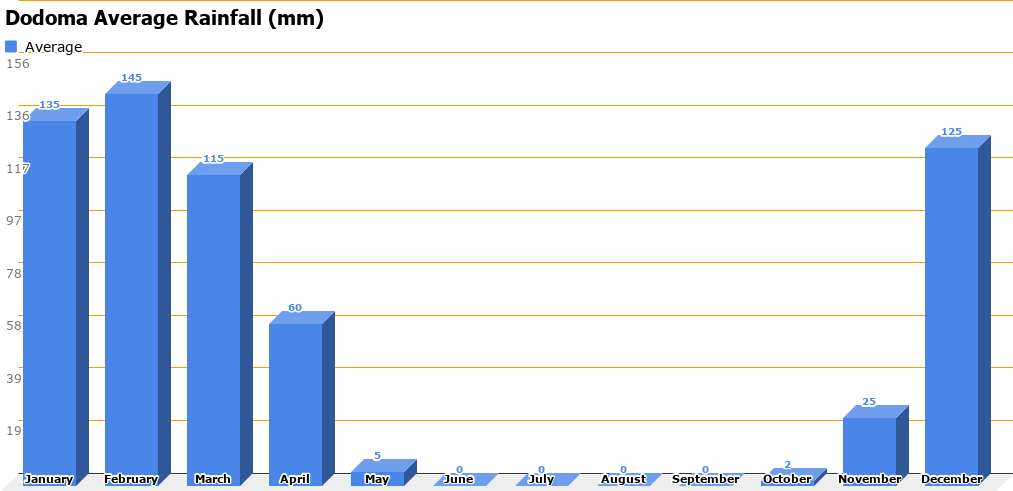 Mwanza Average Temperature Chart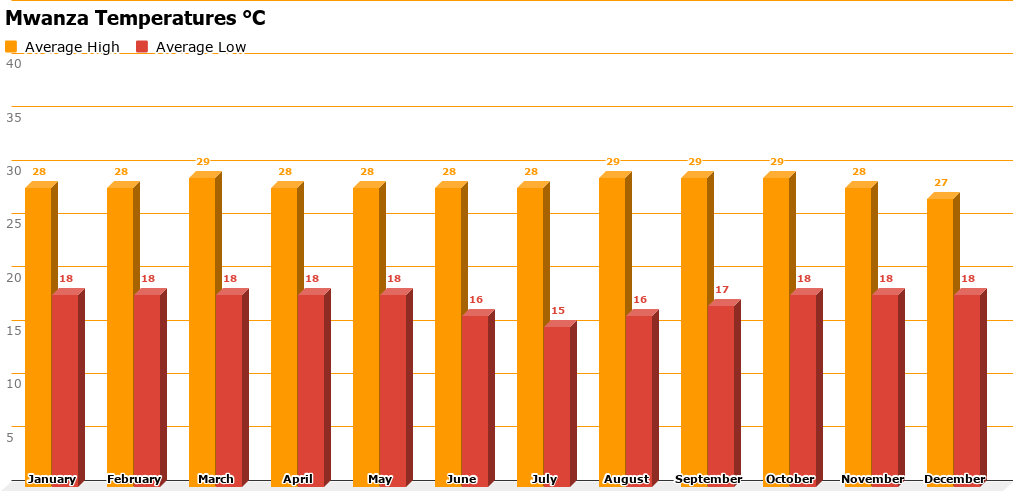 Mwanza Average Rainfall (mm)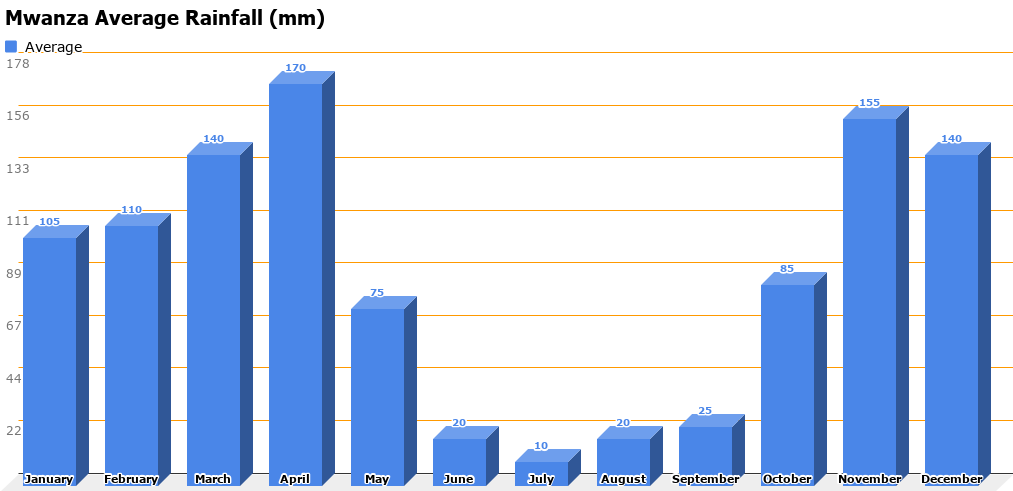 Tanzania Travel Topics
Best Tanzania Safari Routes

Introducing the best Tanzania safari Routes! Explore the Serengeti's vast plains, marvel at the wildlife in the Ngorongoro Crater, and much more.

With us, you'll have everything taken care of, from planning to execution - so all you need to do is relax and enjoy your adventure.

10 Best Serengeti Safari Holidays

Serengeti safari packages where one gets to explore, witness and photograph some of Africa's best wildlife sightings in one of Africa's top National Parks.

Visiting the Serengeti National Park is a once in a lifetime opportunity to see, photograph and experience some of Africa's best wildlife sightings.

100 Years Anniversary of WW1 in Africa

In 2014, most of Europe, the UK, North America and the majority of the former British colonies and territories will be commemorating the 100th anniversary of the start of the First World War. These commemorations will be times of reflection, of memory and certainly not of celebration.

Top 5 restaurants in Zanzibar

The island of Zanzibar is one of those wonderfully exotic names which conjures up mystery, spices and tropical heat. It is all those things and more. In 2013, it is likely to be your beach destination of choice if you have been on safari in mainland Tanzania or even Kenya.

Tanzania: A New Species is Discovered!

The new addition to the sengi family was first spotted in 2005 when Francesco Rovero of the Trento Museum of Natural Sciences in Italy set up motion-sensing cameras in the forests of Tanzania's the Eastern Arc Mountains. A photograph appeared of a creature with a long snout that no one could identify.

Castaway: African Island Escapes

It is no surprise that Daniel Defoe's Robinson Crusoe is one of the most widely published books in history. Island life has occupied the daydreams of young and old since it was first released in 1719...

Celebrating David Livingstone In Tanzania

Some of the most iconic moments in the legend and real history of David Livingstone's explorations emanate from Tanzania. The reporter and explorer HM Stanley famously met Livingstone at Ujiji on Lake Tanganyika with the reputed words of "Dr Livingstone I presume."

10 Best Lodges in Tanzania

Looking for the best places to stay in Tanzania? Look no further! Uyaphi has put together a list of our 10 best lodges in Tanzania, perfect for any traveller. From Tarangire National Park to Selous Game Reserve and beyond, we've got you covered. So book now and enjoy an unforgettable African safari!