When To Visit Namibia
The weather in Namibia is generally good year-round with some destinations offering as much as 300 days per year of sunshine. Summer days in the desert regions are sweltering and winter nights can drop below zero degrees Celsius.
But the question remains; when is the best time to visit Namibia to which we can only answer 'how long is a piece of string?'. The answer, in short, depends on you; your budget, your expectations, your interests and what you want to experience.
High Season: July to October
Low Season: December to April
Mid Season: November, May and June
Summer In Namibia
Summer months are regarded as the low season in terms of costs, but with the temperature that in the high 30's and low 40°C marks this period can make for an uncomfortable safari (depending on how you and your fellow travellers react to heat). Namibia is also a summer rainfall region with the northern and eastern regions getting mostly afternoon thunderstorms, rainfall can and does quite often play havoc with roads conditions making driving times that bit longer.
For us, the bonus of a Namibia safari in the summer months is that most of the attractions and destinations are quieter in terms of visitor numbers, most of us at Uyaphi.com do not mind the heat and are somewhat used to 35+ degrees Celsius.
Winter In Namibia
Winter in Namibia is high season in terms of costs, lower daytime temperatures and close to freezing evenings make this period a lot more user-friendly for travellers from the Northern Hemisphere. Winter is also the dry season in Namibia and with that better wildlife viewing can be had in the northern, eastern and Caprivi Strip regions due to wildlife making use of the waterholes within National Parks and Reserves.
Note; with winter being the high season, all attractions are busy with people coming and going at a constant rate, but on saying that only Sossusvlei has ever felt too busy for us (they say 500 vehicles a day pass through the gate).
Best Season For Wildlife
Winter is best for wildlife in Etosha National Park with wildlife making use of the waterholes throughout the day. Summer is not bad though, but after good rains, wildlife does become scarce.
Best Season For Birdlife
Summer is without question best for the birders out there, especially in the northern areas and the Caprivi Strip with all the summer migrants, birding in summer is rather good.
The Best Time To Visit Namibia?
Namibia as a general rule is a year-round destination for visitors to the country, but on saying that, the best time to safari in Namibia (most popular and most expensive) are the winter months as temperatures are mild and the wildlife sightings are all close to watering holes.
Summer is simply just too hot for most people, especially folk from the northern hemisphere, coming from a winter in Europe and stepping out of the plane to be met by +40° degree Celsius temperatures is off-putting to most. But on saying that we have travelled in Namibia in the summer months and the place was empty and although hot, nothing an air-conditioned vehicle and lodge room could not sort out. The wildlife in Etosha in summer for us was rather disappointing though (hence winter is better for wildlife).
Windhoek Temperature Chart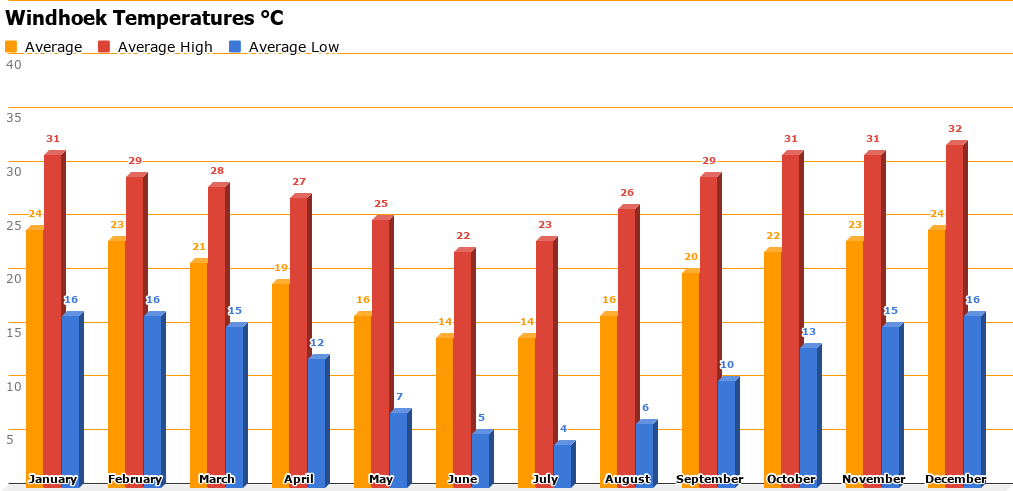 Windhoek Average Rainfall Chart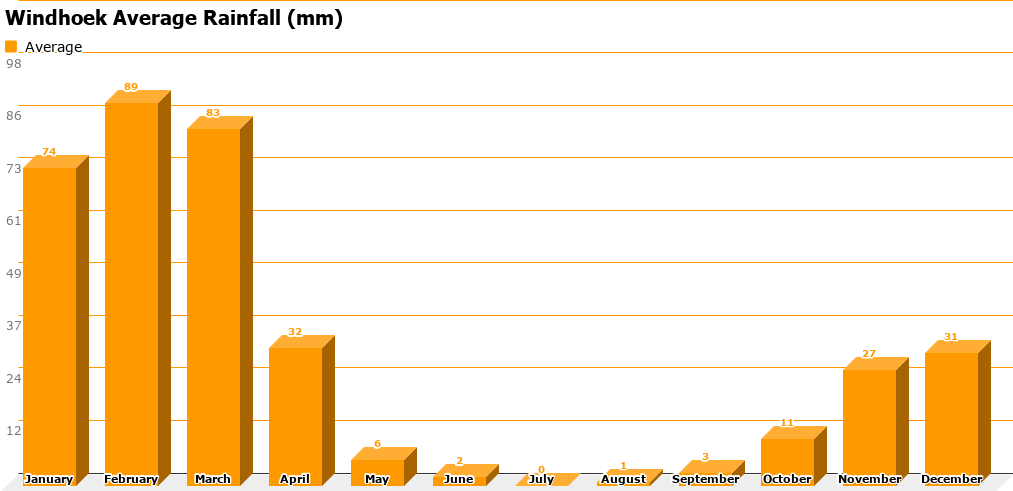 Etosha Temperature Chart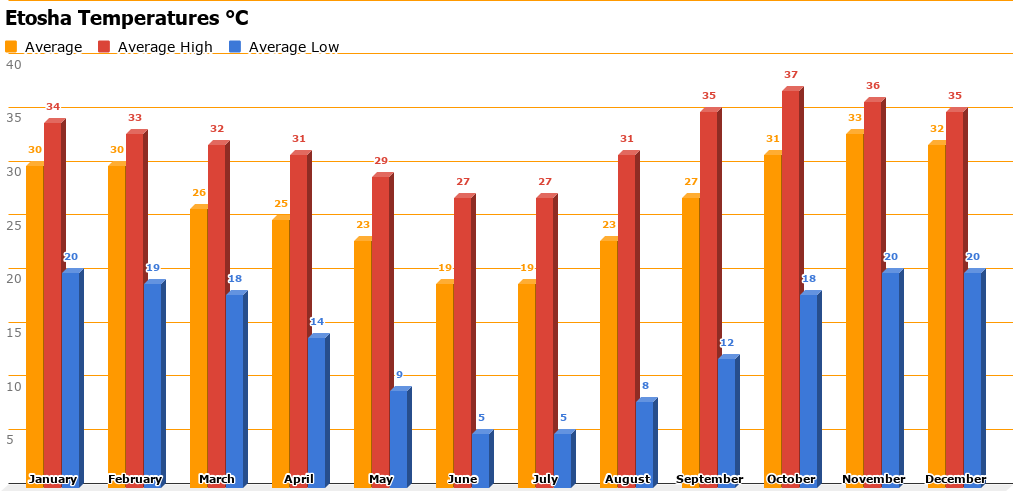 Etosha Average Rainfall Chart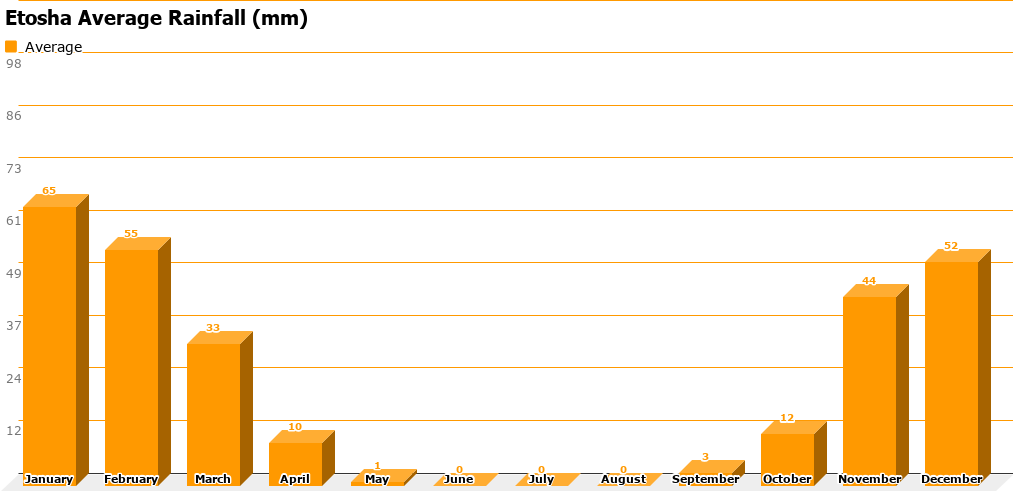 Solitaire Temperature Chart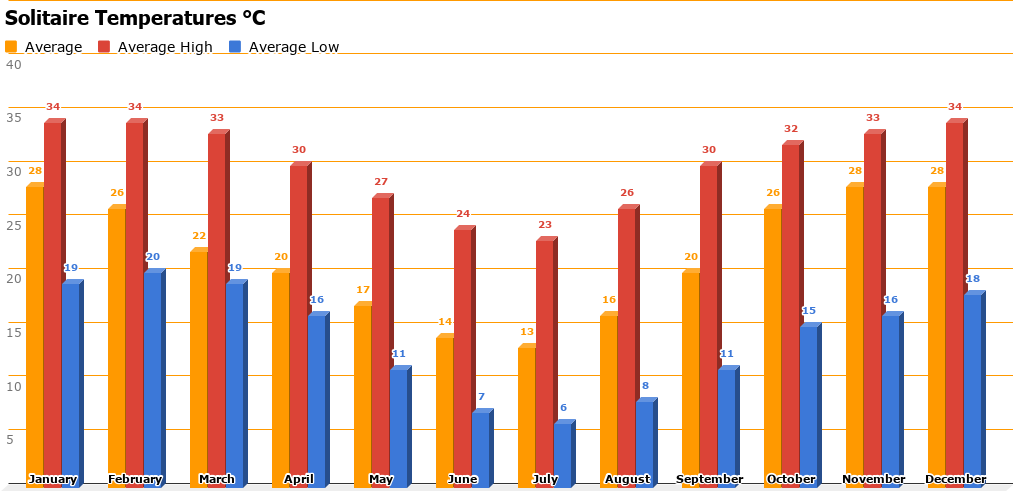 Solitaire Average Rainfall Chart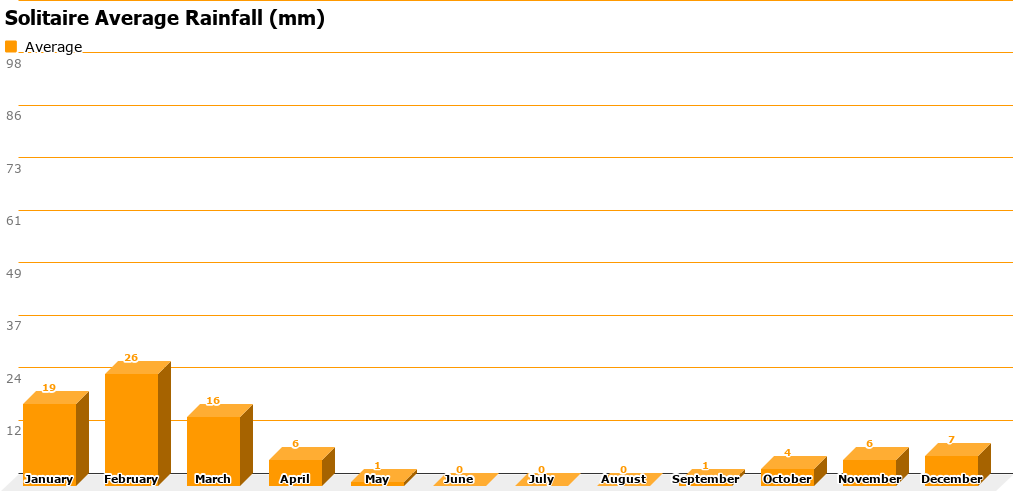 Swakopmund Temperature Chart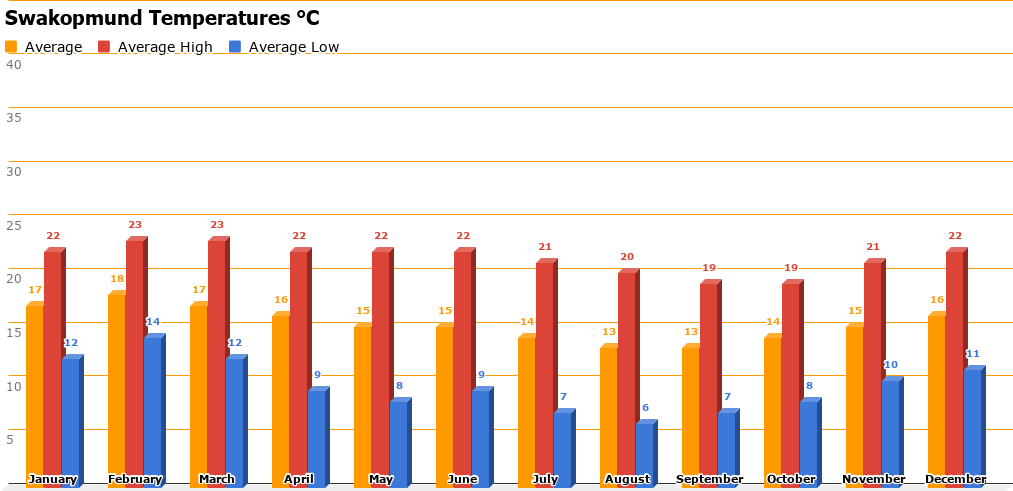 Swakopmund Average Rainfall Chart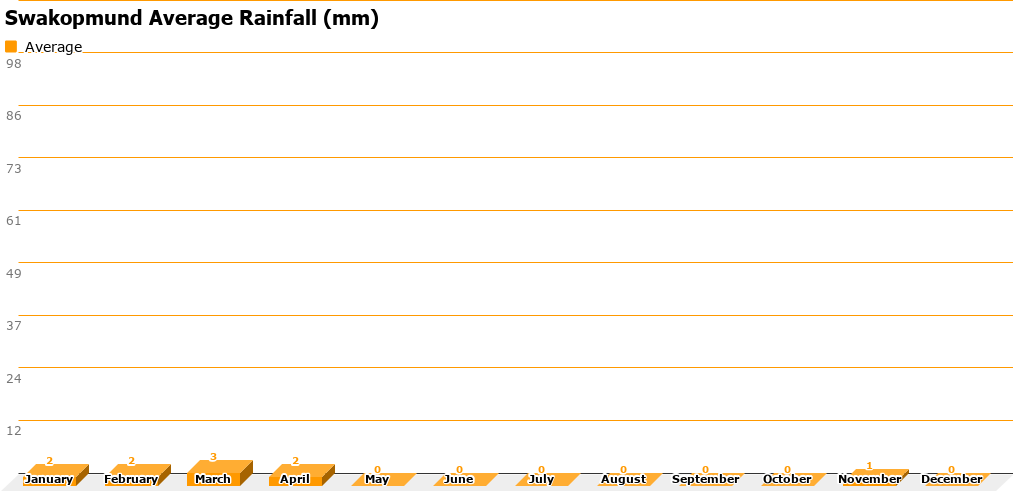 Best Namibia Lodges By Map