When To Visit Kenya
Temperatures over much of Kenya are subtropical or temperate, because of the reduction of temperature with altitude, and are similar to those in California, summer in France or southern Britain rather than those elsewhere in equatorial Africa.
Only the coastal lowlands experience the constant high temperatures and humidity associated with equatorial latitudes. Even here they are less oppressive than one might expect, because of the regular daytime sea breezes and longer hours of sunshine.
It is not surprising that with such a favourable weather pattern - sunny, only moderately wet, and not too hot - and a great variety of scenery, wildlife, game parks, and good communications, Kenya has many attractions for the tourist.
The variety of relief and the range of altitude in Kenya produce a considerable number of distinctive local climates and local weather too numerous to be detailed here. The country can be divided broadly into four climatic regions, each with certain features of equatorial weather climates.
There is a second rainy season between March and May and between November and December, with two intervening dry seasons.
When travelling in Kenya what to pack in your suitcase can be quite confusing, below are the basics. Generally, comfortable casual clothing is suitable throughout the year.
The below charts, provide you with a look at what the weather should be like during your stay in Africa. Please note that these are average figures only and the weather is often unpredictable.
Kenya Weather Charts
Masai Mara Temperature Chart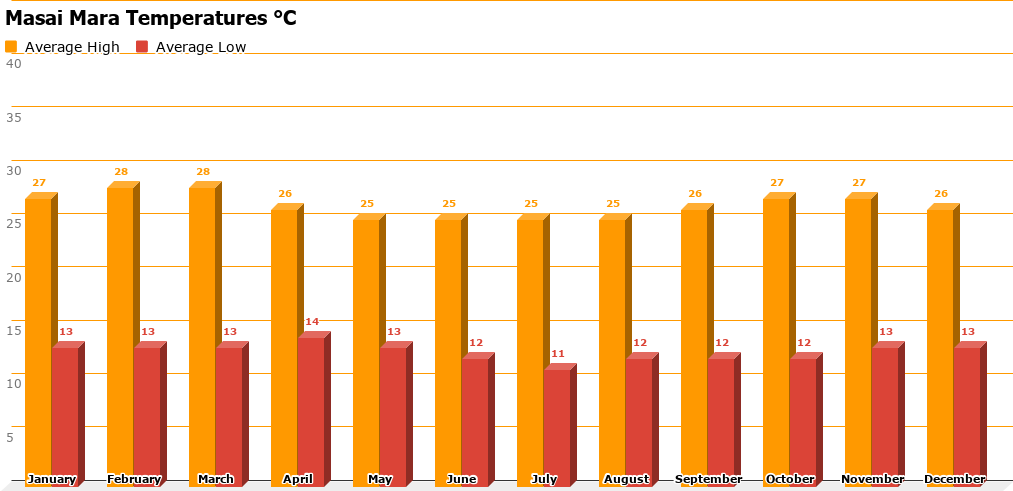 Masai Mara Average Rainfall (mm)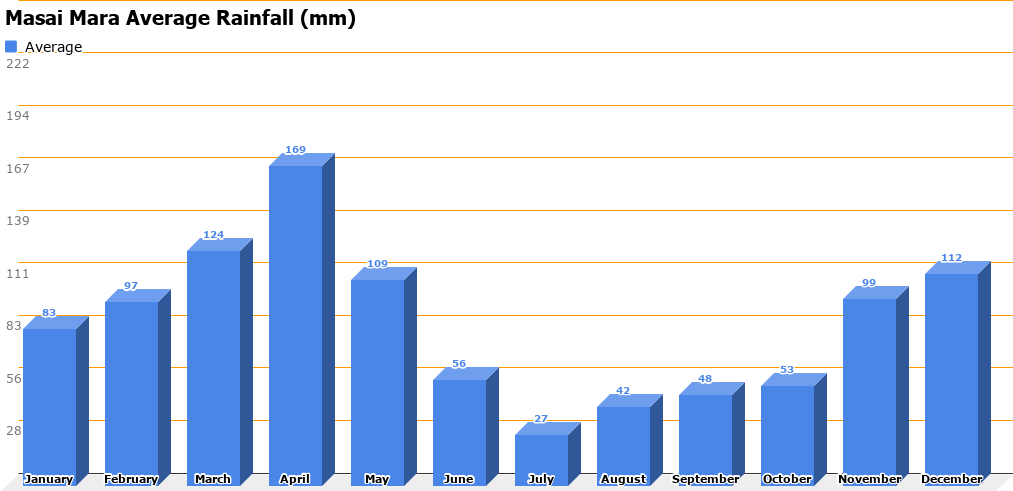 Naivasha Temperature Chart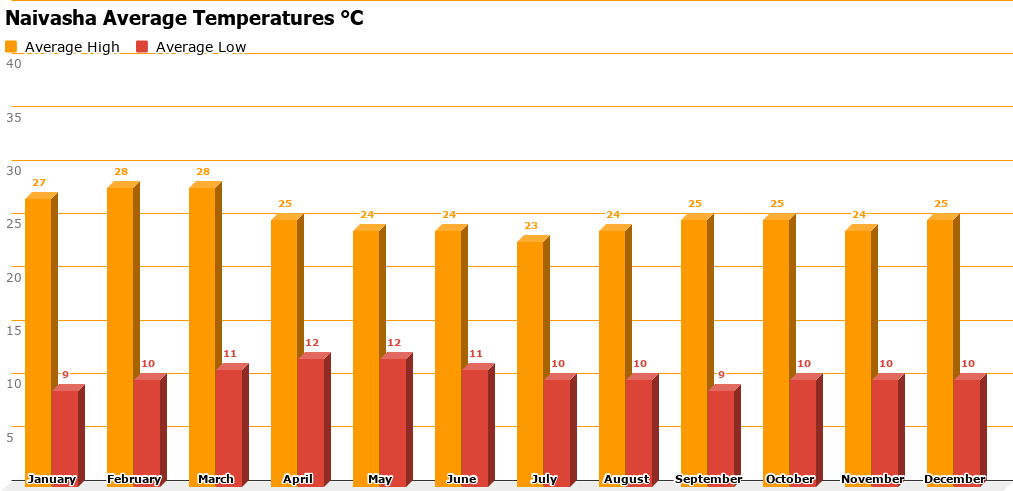 Naivasha Average Rainfall (mm)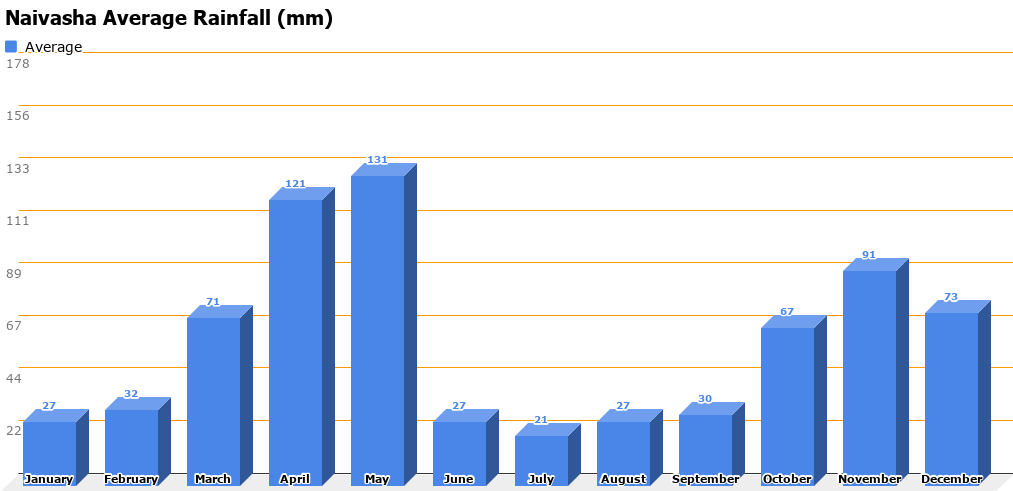 Tsavo Temperature Chart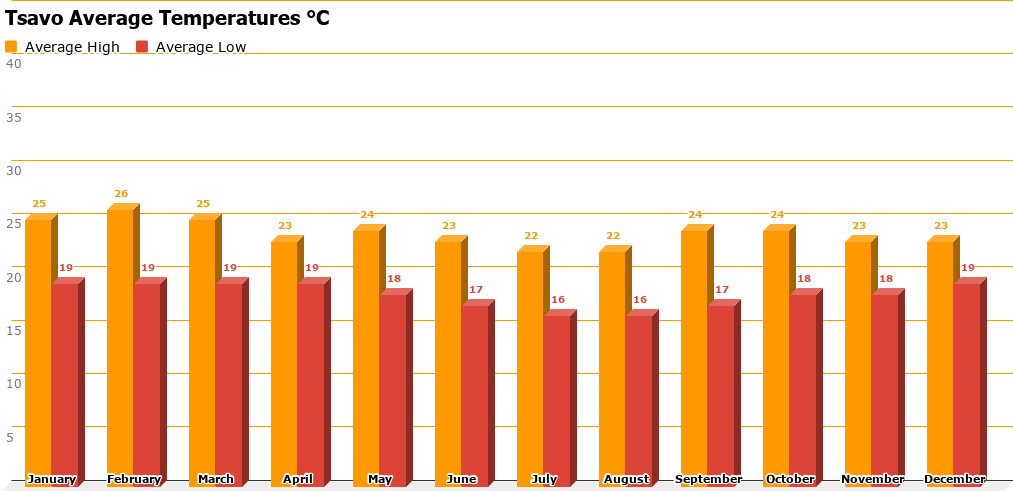 Tsavo Average Rainfall (mm)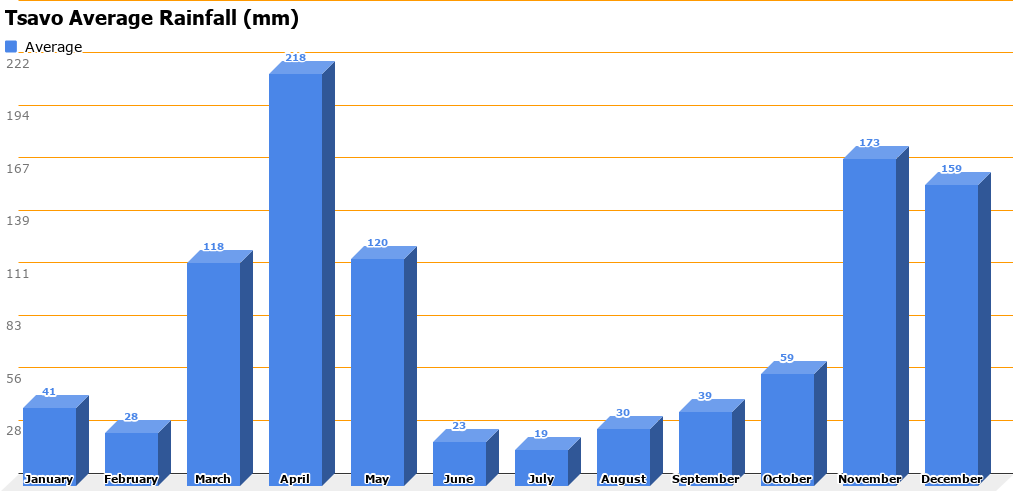 Lake Victoria Temperature Chart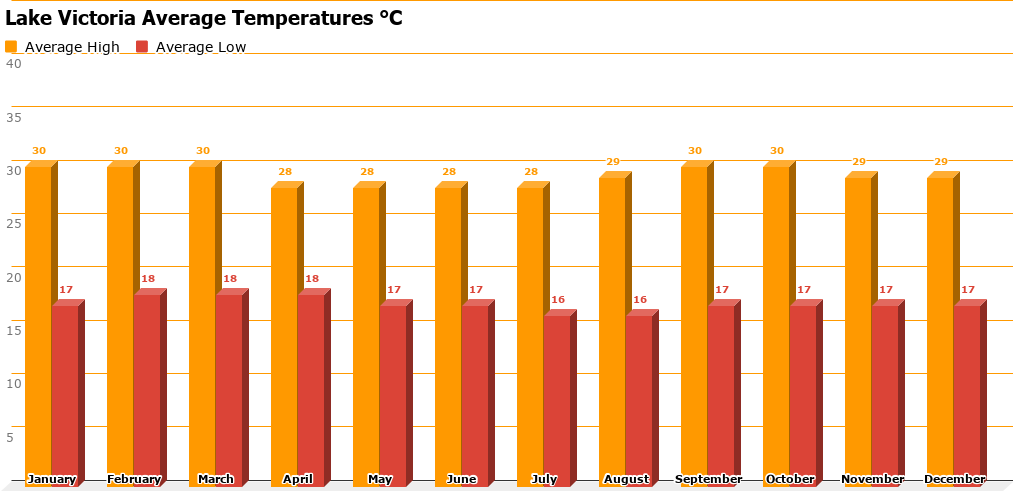 Lake Victoria Average Rainfall (mm)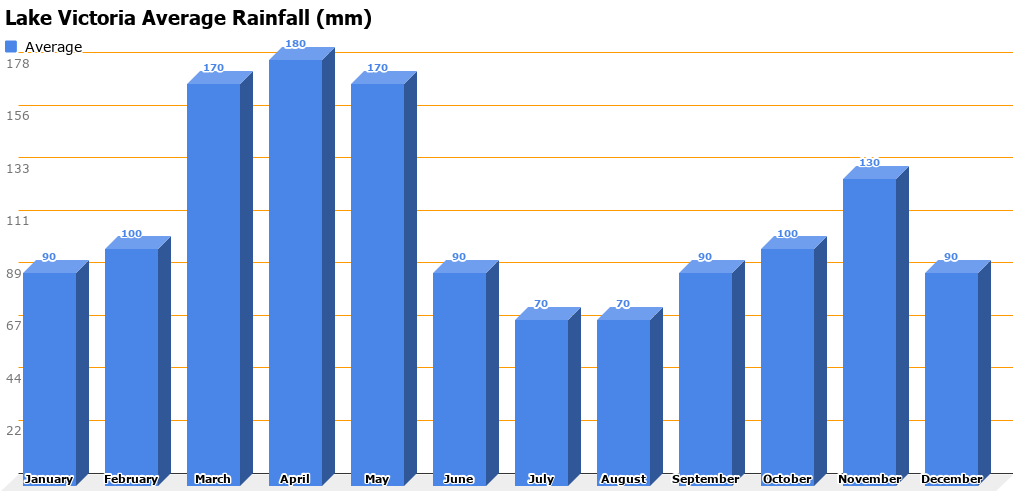 Nairobi Temperature Chart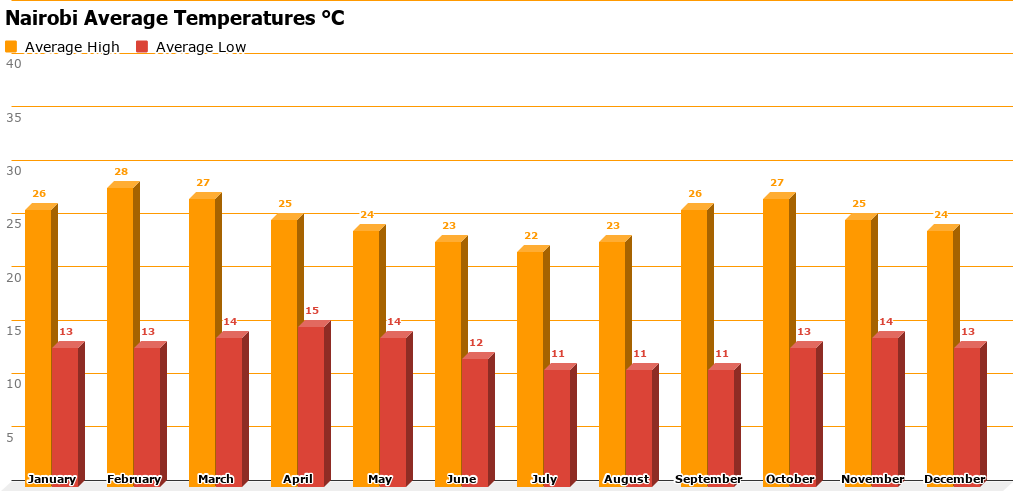 Nairobi Average Rainfall (mm)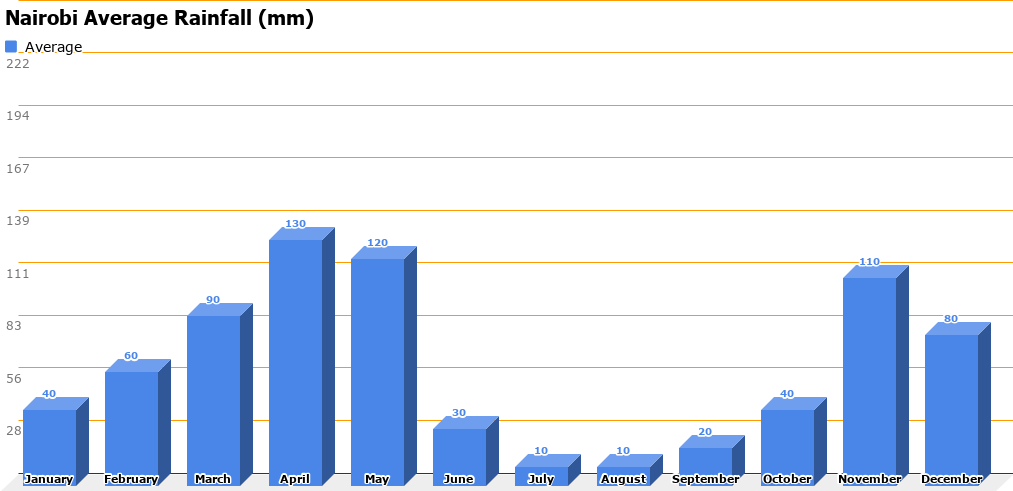 Mombasa Temperature Chart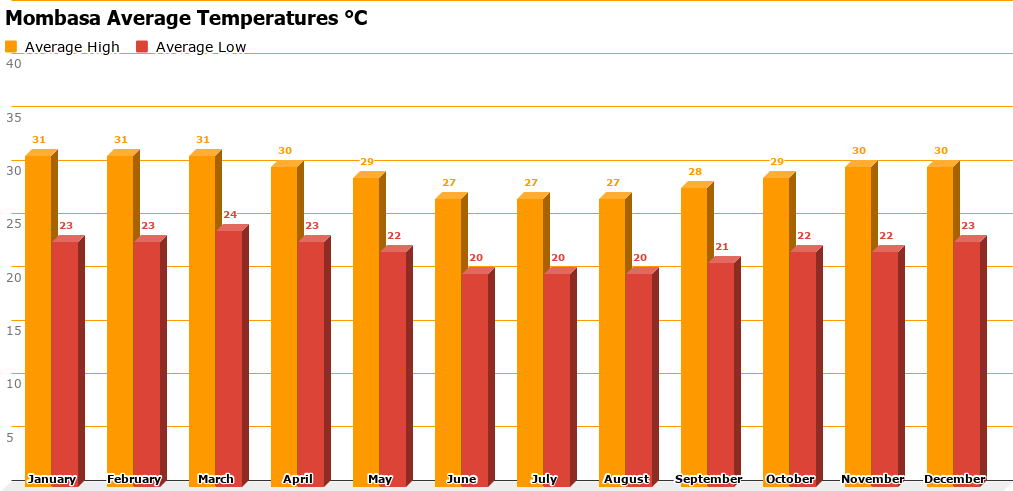 Mombasa Average Rainfall (mm)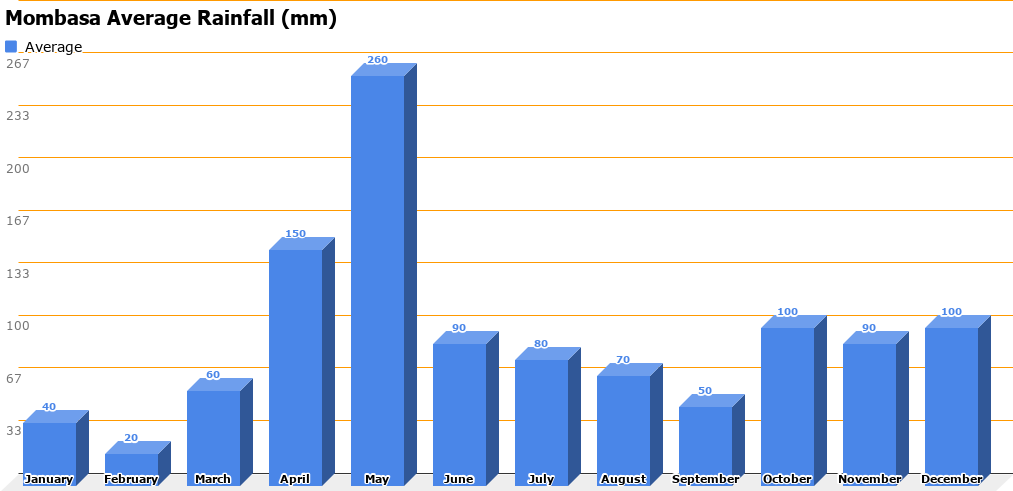 Lamu Temperature Chart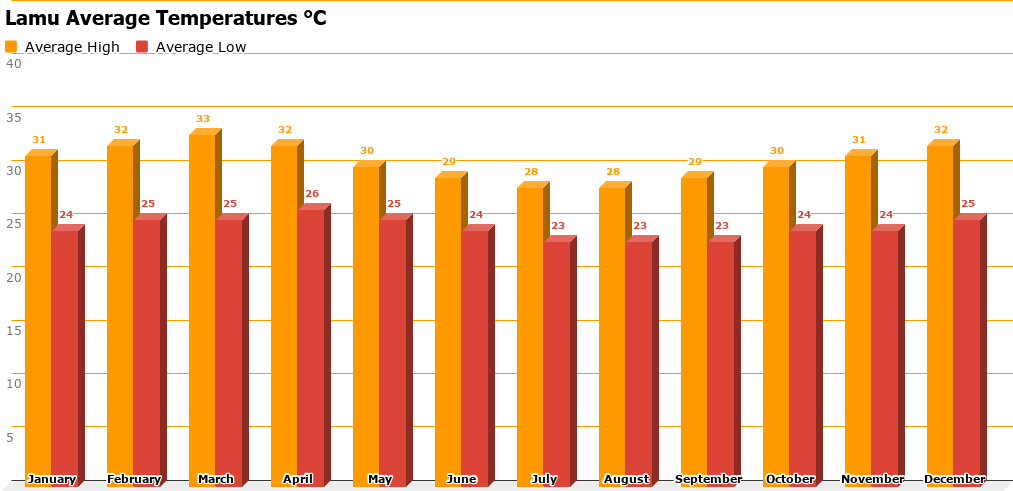 Lamu Average Rainfall (mm)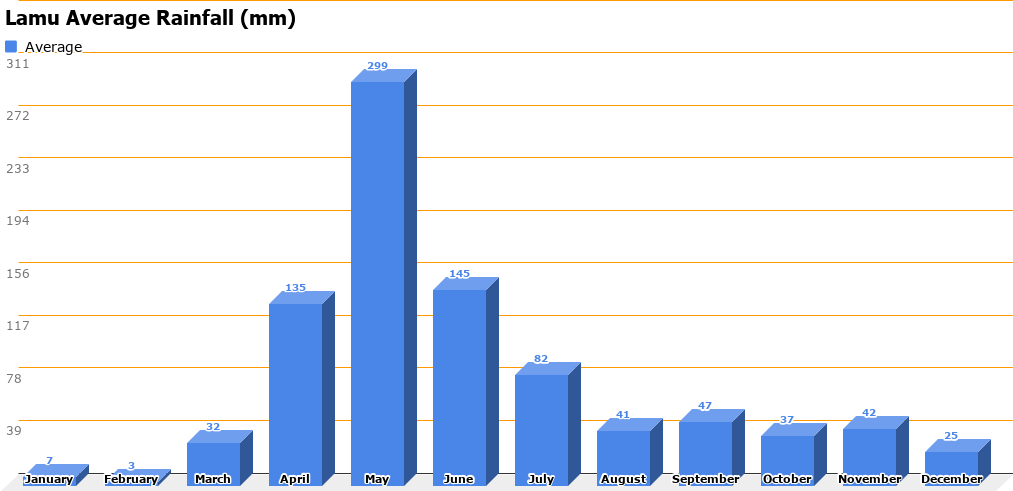 Kenya Travel Topics
The Best Tented Safari Camps In Kenya

Our list of the top 10 tented camps across Kenya across most budget ranges. We have compiled a list of some amazing accommodation options in Kenya, including Masai Mara, Laikipia Plateau and Amboseli National Park. Home to some of the best wildlife and nature reserves in the world!

Kenya: Top Holiday Destinations for 2022

Kenya is one of the most beautiful destinations in Africa. It has some of the best landscapes and wildlife that make it a perfect destination for people who are looking for an exciting holiday. Here are a few of the top destinations for 2022 that you should not miss when visiting Kenya.

10 Best Lodges in Kenya to Visit in 2022

10 Best Lodges in Kenya to Visit in 2022, all establishments offer unforgettable experiences and are found in the Masai Mara, Samburu, Meru, Tsavo, Amboseli, and Nairobi. From the famed Masai Mara to the slopes of Mount Kenya, here are ten of the best lodges in Kenya for an unforgettable safari experience.

Kenya safari ambassador tribute

In memoriam Honey; Honey was famous for jumping into vehicles to obtain a better view of her idyllic world - the Masai Mara Game Reserve. This special cheetah was killed on the 17th of February 2007 in full view of her three remaining cubs.

Impressions Of Kenya

Kenya's wildlife remains at the heart of its attractions, yet there is much more to discover in this fascinating country outside the game reserves. You can climb the slopes of Mount Kenya to find tropical ice on the Equator, or explore the coral reefs of the Mombasa coast.

Explore The Masai Mara By Balloon

It was one of those rare moments where you take in the majesty of nature in complete silence, disturbing nothing, saying nothing. In Kenya last month, I had the great pleasure of a balloon safari over the Masai Mara organised by the excellent and highly professional Governors Company.

Giraffe Manor Review

Located in the southern suburbs of Nairobi is an English manor house. When it was built, the country was unclaimed bush rampant with African wildlife. The home of Karen Blixen is nearby who posthumously lends her name to this suburb, Karen.

Hells Gate Kenya

I had visions of being trampled by buffalo, stalked by lions, or, given the extreme humidity and daytime temperatures, falling prey to one of the thousands of vultures who call Hell's Gate National Park their home. But our guide assured me that it would be fun.