For me, it is the ultimate in the sense of relaxation while on safari. Perhaps a massage at the in-house spa of a game lodge is high on the list, but mokoro gets you up close and personal while on safari. Not just with wildlife and game you might encounter, but with the water and the flora surrounding these waterways.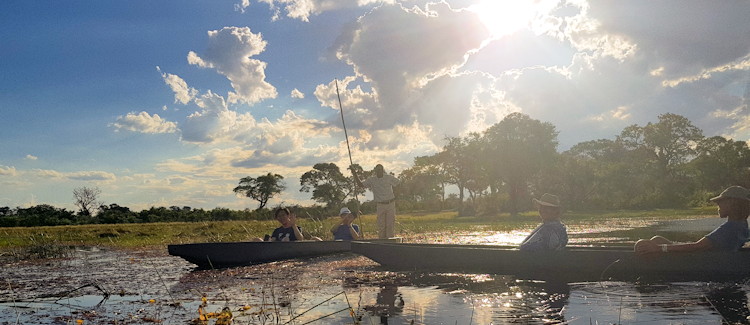 The land glides past as your poler sweeps you through the narrow channels and into bodies of water that seem to hide the mysteries of the bush... what lurks beneath...
More than likely, your poler grew up on these waterways; he knows the land and the secrets that it hides. He tells you the stories of his father, grandfather, and how he came to be here.
You learn about the smaller details - the frogs you'll never encounter anywhere else, what you can (and can't) use the water lilies for and how the afternoon thunderstorms play their role in the magic of the Okavango Delta.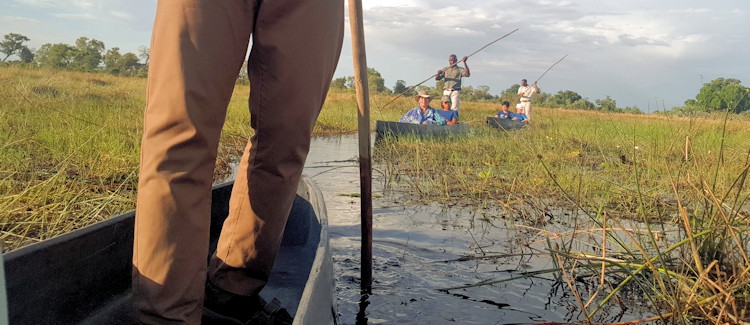 It's quiet; you can hear yourself breathe, the reeds hustle, the hippos come up for air...
Wildlife watch you from the banks as you float past; you almost feel at one with your surroundings. Even once your time on the water is over, you still feel the sense of calm as you head back to the vehicle or the lodge.
A mokoro experience allows you.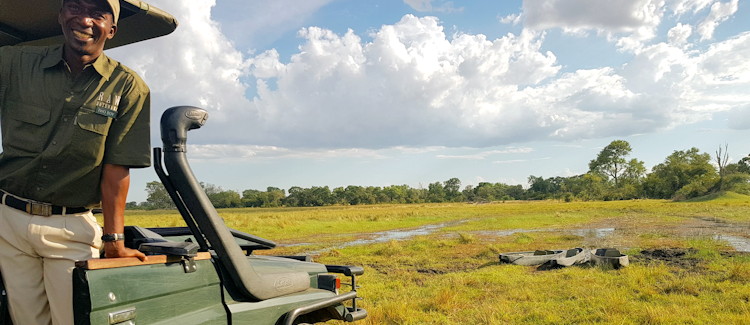 Popular Botswana Safaris
Departure; Scheduled and tailor-made departure dates
Duration; 17 Day Botswana Safari
Lodging; Semi Participation Camping Safari
Group Size; Maximum 12
Note: Travel insurance is compulsory for all safaris

Discover Botswana Wildlife Safari

Departure; Scheduled and tailor-made departure dates
Duration; 12 Day Botswana Safari
Lodging; Luxury Tented Mobile Safaris
Group Size; Maximum 12
Note: Travel insurance is compulsory for all safaris

Central Kalahari Mobile Safari

Departure; Daily; Scheduled or Tailor-Made
Duration; 4 days/ 3Nights
Lodging; Luxury Mobile Camp
Group Size; Minimum 2
Minimum age; Eight years old
Note: Travel insurance is compulsory for all safaris

Departure; Scheduled and tailor-made departure dates
Duration; 15 Day Botswana Safari
Lodging; Semi Participation Camping Safari
Group Size; Maximum 12
Note: Travel insurance is compulsory for all safaris

Botswana Luxury in a Tent

Departure; Scheduled and tailor-made departure dates
Duration; 11 Day Botswana Safari
Lodging; Luxury Tented Mobile Safaris
Group Size; Maximum 12
Note: Travel insurance is compulsory for all safaris

Departure; Daily; Scheduled or Tailor-Made
Duration; 3 Days/ 2 Nights
Lodging; Mobile Camping
Group Size; Minimum 2
Minimum age; Eight years old
Note: Travel insurance is compulsory for all safaris